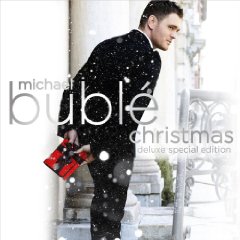 I don't know if this a good or a bad habit for any jazz or pop star to release a CD with Christmas music, but (sh)it happens and every year the stores are filled with an endless number of new and old releases of the most popular Christmas songs.
I also get into the stores and take a look what kind of stuff is available from the great jazz singers or bands, so I bought "The Christmas Album" from Manhattan Transfer or "Christmas Songs" from Diana Krall. Typically, these CDs have one or two cool arranged and swinging songs and the rest is just candy sweet versions of the famous Christmas tunes.
And here came Michael Bublé with his album "Christmas". The deluxe version I bought has 19 songs on it, all very well recorded,  arranged and very easy swinging and only one or two of them are those sugar sweet versions.
He seems to have the right Christmas spirit which is just a little bit sweet and sentimental but mostly very happy and excited about these special days of the year.
And Michael Bublé confirmed this in an interview:
"I love Christmas. I'm really sentimental about it. My parents made it awesome for us, and we were allowed to be kids for a long time."
I bought the CD already a year ago, but this year my 16-year old daughter picked it up and since she is also the kind of person that waits after the summer holidays for Christmas to come, the whole family had to listen to this CD for many weeks now, but it still gets not boring to hear Michael Bublé.
This CD has been sold over 7 million times so you might already have it – if not buy it (you might even get it at your local grocery store) and I think you will have a musical companion for many more holiday season to come.