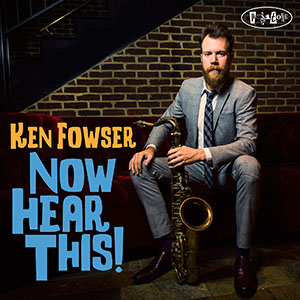 Once or twice a year I order the newest CD releases from posi-tone records. I like their work very much, the quality of the material is very good and I know it is contemporary jazz music from the finest musicians in the US, especially from New York.
In this year's package the album "Now Hear This!" from tenor saxophonist Ken Fowser made it on top of my playlist. Ken comes originally from Philadelphia where he started his studies. He moved to New York in 2005, and attended graduate studies at SUNY Purchase College where he received his masters degree in 2008.
Becoming more visible on the live music scene, in the latter 2000s Ken Fowser enjoyed residencies at iconic New York venues. Hosting the session at Smalls Jazz Club every Tuesday for four years, and playing the late set at Smoke Jazz and Supper Club every Friday for two years, he followed headlining sets of such masters as the late Cedar Walton, Buster Williams and perhaps his greatest influence, George Coleman.
The line-up for this album is identical with the line-up from his 2016 posi-tone release "Standing Tall", with Josh Bruneau on trumpet and flugelhorn, Rick Germanson on piano, Paul Gill on bass and Jason Tiemann on drums, which means that the band is very well-rehearsed.
The line-up and the style of the music follows very much the classical hard-bop bands from Horace Silver, Art Blakey or Lee Morgan.  All tunes on the album have been written by Ken Fowser, so this all original material, but it's truly inspired by the masters.
I enjoy listening to the more bluesy tunes like "Blast Off", "Blues for Mabes" or the title song "Now Hear This!".
The band is able to swing hard like in "Ready the Mops" or to play light and easy as in "Her And Now" or "One And Done".
While saxophone, trumpet/flugelhorn and piano play solos in most of the tunes, you hear a drums solo in "One And Done" and "The View from Below".
Paul Gill on bass gets his chance to shine in "Fair to Middlin'" and "Ready The Mops".
As said, I like the album very much because it has this rather straight-forward hard-bop approach. It is played brilliantly and very down-to-earth at the same time.
I haven't found a video where the band plays one of the tunes from the album, but this version of "Black Orpheus" is also quite nice

Finally a playlist from iTunes to give you a chance to listen to the songs from the CD: