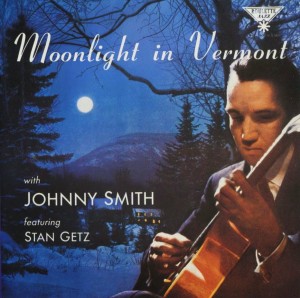 "Moonlight in Vermont" is a ballad written by John Blackburn and Karl Suessdorf in 1944. It was recorded by Margaret Whiting and the Billy Butterfield Orchestra and became immediately a big hit.
The lyrics of John Blackburn are also special, since they do not rhyme, but they describe perfectly a late fall-early winter landscape in Vermont (an area which has the perfect scenery for an American Christmas dream) and no wonder, that the song was also very popular with the American troops fighting in Europe during World War II.
The form is the very popular 32-bars AABA form with an additional 2 bars played as ending, sometimes after each chorus, sometimes only at the end of the tune. The original key was Db major, but the real book notates it in Eb, and the most popular cover version by Johnny Smith was played in C major.
The version of guitarist Jimmy Smith, released in 1952, became also the inspiration for many other guitar player and that is one of the reasons why my playlist has the focus on that instrument:
Johnny Smith and Stan Getz: This instrumental version of the song is the most popular version and I think also the most interesting one. It shows Johnny Smith playing very closed voicings on the guitar sounding almost like a steel-guitar and Stan Getz adding a very cool and relaxed saxophone.
Stan Getz has recorded another cool version of this tune together with Chet Baker on trumpet. The tempo of this version is quite similar to the version with Johnny Smith, but Chet Baker and Stan Getz play the melody well-composed and arranged in two voices.
Nat King Cole recorded an instrumental version of this song in 1947. Very soft and easy played with a sparkling Nat King Cole on piano. Interesting enough I found no version where he sings.
Billie Holiday recorded this song in 1957 with her orchestra, featuring Ben Webster on tenor saxophone and Barney Kessel on guitar. Also very easy and relaxed and I like her voice anyway very much.
From Joe pass you can find two nice versions, one as soloist on his CD "Unforgettable" from 1992, released after his death in 1998, where Joe Pass plays the song on a nylon string guitar, not on his regular Gibson ES-175 Jazz guitar. The other version is a duet with Ella Fitzgerald on the album "Easy Living" from 1986.
Finally I would like to present a version from country singer Willie Nelson. His version is from 1978 from the album "Stardust". This album consists of pop and jazz standards that Nelson chose from his list of favorite songs. The album was 10 years in Billboard's Country Charts and Nelson won a Grammy for the song "Georgia on My Mind" in 1979. The song starts simple and easy with guitar and vocals

and has a very sweet harmonica solo part.
Listen to the songs in the playlist and if you know an interesting and unusual version of this song, please leave a comment.