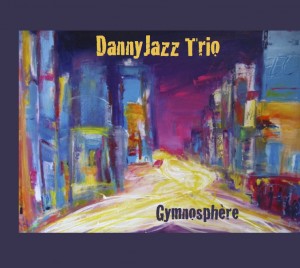 Today I would like to present you a CD of mine.
Together with my friends and fellow musicians Daniel Gaggioli on saxophone and Meinrad Thalmann on double-bass we recorded and produced our first CD "Gymnosphère".
Seven of the songs have been written by Daniel, I am the author of one tune and three cover versions of jazz standards have been recorded for the CD.
The whole project started a year ago, when we decided to produce our own CD. We arranged a workshop in Merano and booked the studio and started to write and select songs.
The recording session took three days and all songs have been recorded live in the Splendorstudio in Bern (www.splendorstudio.ch). Big thanks to Martin Kissing for his professional work and his enthusiastic support.
In the week before the recording we went for a workshop in Merano, Italy (www.meranojazz.it) where we were able to present our work to the teachers at the workshop and had the chance to play together for a whole week. Special thanks here to Ewald Kontschieder who supported us so perfectly and to Franco D'Andrea who was our teacher during this week and played with us at the final workshop concert.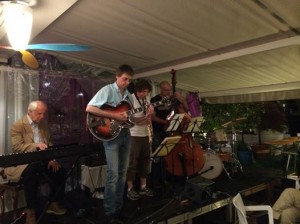 Back to the CD. Daniel wrote a little suite called "An Apple A Day – Keeps The Doctor Away" which was split on the CD as the second and second last song. The title song "Gymnosphère" is a slow and breezy waltz. The last song "Duck Walk" is really humorously and straight swinging with Danny and me playing solos alternately.
Daniel plays alto and soprano sax, I use a chorus  on some tunes and different reverb effects have been added in the mixing process, which results in a variety of different sounds. "Change Or Quit" is really dry and "Poinciana" and "An Apple A Day" have much more volume.
I am really proud of this CD and I have added teasers of all songs at the end of this post. Enjoy listening.
We will have a CD party on March 12, 2015 at the Ono in Bern (www.onobern.ch).
You can order the CD directly from Daniel (www.danielgaggioli.ch) or from CeDe.ch (www.cede.ch).