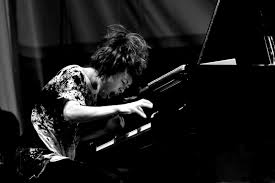 Let me talk about two upcoming events:
1. Hiromi comes to Switzerland: Japanese pianist and composer Hiromi Uehara gives four solo concerts in Switzerland. Form March 27 to March 30 she plays in Basel, Geneva, Berne and Lucerne. The concerts are all in classical concert halls, where usually symphony orchestras are playing. So extra challenge for her, because I would assume the audience attending these concerts has a more classical background.
I have not been able to see her live, but I bought her latest CD "Move" and I was really impressed by the power and extraordinary musical expressions in her playing. Her sidemen on this album are also excellent musicians with a wide background. Bassist Anthony Jackson worked with Chick Corea, Steely Dan and Paul Simon and drummer Simon Phillips played with Toto, The Who, Judas Priest and David Gilmour. Personally I would like to see her with these two sidemen if possible. To give you an idea of how this trio sounds I added the following video:
2. Jazzfestival Bern: The other event that is around the corner is the Jazzfestival Bern. This festival starts on March 17. The opening night features Roy Hargrove on trumpet and italian singer Roberta Gambarini with the Swiss Jazz Orchestra.
Closing night of the festival is on May 24 with Terry Lyne Carrington's "Money Jungle" and the Ellis Marsalis Quartet. In between there will be concerts with Terence Blanchard, Cassandra Wilson, Kevin Eubanks and Spyro Gyra. Even if I think this festival is a little bit too much spread over two months it allows you to see free concerts with great food in a tent outside the hotel "Innere Enge" and the guys at the jazz festival Bern have the right touch to find interesting young musicians to play there.