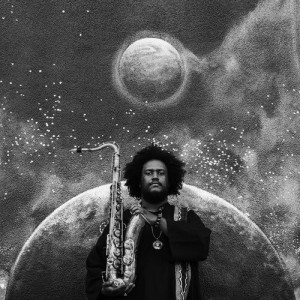 One of the most important CDs of this year is definitely Kamasi Washington's album "The Epic".  This album is was released on May 15 and from the start it was clear that something special happened here.
The album has 3 CDs with a total playtime of 172 minutes, the band has two drummers, two bass players, one of them is Stephen Bruner aka Thundercat and a choir and an orchestra support the band.
But the music is definitely Jazz music even if some of the members of the band and Kamasi himself have been known from working in other genres like film music or Hip-Hop.
The  songs on the first two CDs area all original compositions by Kamasi Washington, the last CD (labeled The Historic Repetition) contains material from Terence Blanchard ("Malcolm's Theme"), Claude Debussy ("Clair de Lune") and the famous standard "Cherokee" ( a rather relaxed arrangement here).
My personal favorites of this CD are the first song on the first CD "Change of the Guard" and the relaxed "Cherokee".
This album is one of the candidates for the best Jazz albums of this year, it is unique and outstanding in terms of performance and inspiration and it might have what it takes to make a new generation listening to Jazz music again.
Kamasi is at the moment in Europe, unfortunately there was no concert in Switzerland. But let's hope we are able to see him next year.