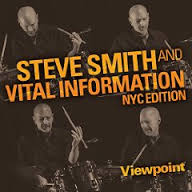 To finish the review of new CD releases in 2015, I would like to present a CD from drummer Steve Smith. I had the chance to see him this fall live in Bern and since there are not so many bands led by a drummer it is always surprising to see how rhythm-based those bands are.
Steve Smith plays on this CD with Baron Browne on bass, Vinny Valentino on guitar, Andy Fusco on sax, and Marc Soskin on piano plus Walt Weiskopf as special guest on two tunes. All musicians are with Steve for a long time and seeing them live you felt the connection and the blind relation they have to each other. Special seemed to me the connection to Marc Soskin. He and Steve Smith were really inspiring even pushing each other during the show.
The material on the CD includes originals by Steve Smith and Vinny Valentino and some real classics like "Oleo", "Bemsha Swing" or "Take Five".  Steve Smith got also the chance to shine with his  drums on three short pieces called "Viewpoint One", "Viewpoint Two" and "A Final Viewpoint" which is like the golden thread running through this album.
So, if you like a band where the drums give the pulse then this CD is a clear recommendation and if you have the chance to see Steve Smith live, please do that. He is a great musician and he will not disappoint you.
Finally an iTunes playlist for you to discover the album: