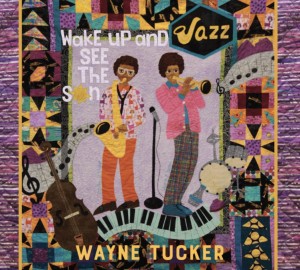 Around a month ago trumpet player Wayne Tucker released his album "Wake Up And See The Sun".
Wayne Tucker is a 30 year old trumpet player/composer/arranger based in New York City. He is a 2009 graduate of the Jazz Studies program at SUNY Purchase under the direction of Todd Coolman. Wayne has played with many of today's current Jazz stars including Kurt Elling, Dee Dee Bridgewater and Cyrille Aimee, and Pop stars like Taylor Swift, Elvis Costello, Matt Simons and Ne-Yo.
He just returned from a European tour with drummer Al Foster.
His new album is a mix of Jazz, Pop, Hip-Hop and some classical elements. All the material is very well arranged, excellently played and perfectly recorded and mixed. Each time you listen to the CD you will find new interesting elements, so this is an album that unfolds its class only after you have listened to it multiple times.
I asked Wayne about what inspires him when writing songs and his simple answer was "for each of the songs I was inspired by my life's experiences". Looks like he has a colorful life.
The first song on the CD is called "Bad Religion" and starts slowly with a poem from Dev Avidon, the sound engineer of the album, which he wrote "for the sense of imagery and imagination".
The title song "Wake Up and See The Sun" comes with very nice horn arrangements and is in Wayne's words  "about a girl that I used to date and takes us through the ups and downs of the relationship".
Wayne has also the talent to write catchy pop songs and he proves it with the song "Little Buddy" where he sings together with Cyrille Aimée.  A very light and easy song which crawls into your ear and brain and you don't want it to end. Lucky enough we get a reprise of this song in "Little Buddy Reprise".  Wayne produced a video for this reprise and you find the link below.
Wayne became an actor in the short film "Hotel Bleu". He also wrote the music for this film and you find the opening score called "Tears" on the album.
The song "Humans Groove Harder Than Robots" a Salsa-inspired funky groove tune is according to Wayne "about the wave of technology that we're currently experiencing. In my perception the thing that separates humans from robots is emotion, which is what gives music character and emotion." Absolutely right and the solos on this tune are the best evidence for this argument.
The album is available on CD Baby (my favorite online CD store). Please use the link below to listen to the tracks and to order the CD: