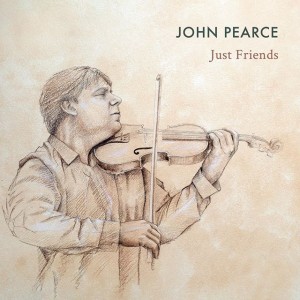 Bristol-based violinist John Pearce has released his debut album "Just Friends" on September 18. The album contains a tasty collection of ten standards including some of my personal favorites like "You Don't Know What Love Is" or "Just Friends".
John Pearce started to play violin at the age of seven and was trained as classical violinist before he found his way into jazz music. He is not only a sought-after classical violinist but also an active member of the Bristol jazz scene.  He is accompanied on this album by
David Newton – piano
Will Harris – double bass
Ian Matthews – drums
all of them well-known in Bristol and South-West-England.
The album starts with the title song "Just Friends". This song begins with a funny intro and picks up during the violin solo. The band is really hard grooving and John Pearce has a phenomenal violin sound. We also hear a great piano solo and an interlude with a nice drums solo. Excellent start into this album.
"Alice in Wonderland" indulges in elegancy before the song accelerates. Again, a great swinging band and beautiful solos by violin and piano strengthen the impression that this band knows how to play this tunes relaxed and sophisticated.
"Joy Spring" adds new colors to the album. David Newton plays on a Fender Rhodes. The groove is heavy, almost funky with David Newton having the first solo. John takes over and sings his solo together with the violin which adds another unique sound to this song. This is definitely one of the highlights on the album.
The next two songs are two of my favorite ballads, "Moonlight in Vermont" and "You Don't Know What Love Is".
"Moonlight in Vermont" begins in a pop-music-style with the piano playing arpeggios and long notes on the violin  (with just a little bit of vibrato) switching to a bluesy piano solo and an expressive violin solo before it returns to the soft style from the beginning.
David Newton's piano playing in "You Don't Know What Love Is" reminds me a little bit of Gil Goldstein with Pat Martino. The solos come from piano and violin and show the different approach each musicians chooses. David Newton has the bluesy-touch and John Pearce looks for a beautiful melody and at the end he plays a classically inspired cadence.
The next song is "Caravan" by Duke Ellington. This version has again some special effects. Ian Matthews plays the drums in jungle-style and also gets the chance to shine with an extended solo and the piano solo on the Fender Rhodes is overdubbed over the "normal" piano.
"Stompin' At The Savoy" has received a nice makeover with a steady stomping bass in the A part of the tune and a walking bass in the bridge. The violin solo starts in best coffee house style, soft and gentle but with fine dynamics. Will Harris on bass takes the last solo in this tune.
The album continues with "So Danco Samba" played very clear and transparent with a nice steady groove by drums and bass.  The violin solo starts light as feather and piano solo caters for the earthy sound.
The ballad "My Foolish Heart"  is played beautifully by John Pearce. Long notes in high position and large intervals with perfect intonation.
The album closes with "Lester Leaps In", a tune based on Rhythm-changes where violin, piano and drums have a chance to present again their stupendous technical skills in an up-tempo-swing tune.
Overall "Just Friends" is a great album with many well known standards that received an superb makeover and come with a personal touch. The songs sound new and refreshing and John Pearce and his fellow musicians present them in a very positive vibe and a lot of energy.
John is currently on a promotion tour in the UK for this album. details are on his website:
http://www.johnpearceviolin.com/
I have a video of this band playing "Skylark":

And finally a playlist of this album on Spotify: