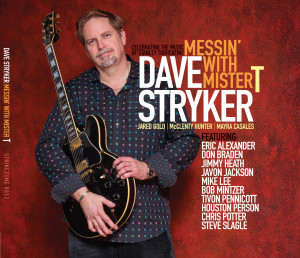 Today I want to start presenting CD's that have been released this year.
We all enjoy the recordings from the great masters, like John Coltrane and Miles Davis but some of these records are already 50 years old.
I think we should also be able to see what is currently going on and so I started to look around for new CD releases. There are records from major labels like Concord, ECM and there are also records from well-known names like Diana Krall or Gregory Porter.
But there is also a lot of new stuff from artists in the second row and I would like to start today with a CD from Dave Stryker called "Messin' with Mr T". The CD is a reminiscence to Stanley Turrentine, who died 15 years ago. Dave Stryker was playing with Stanley Turrentine for many years and recorded two albums with him.
The CD contains 10 songs and features 10 different  saxophone players including Chris Potter, Bob Mintzer, Eric Alexander and Steve Slagle.
The rhythm section includes the finest musicians from the New York Jazz scene with Jared Gold on hammond B3 organ and McClenty Hunter on drums.
It's an excellent CD with very good music, including all-time classics like "In a Sentimental Mood" or "Impressions" and also some very groovy played tunes like "Side Steppin'" or "Don't Mess With Mr.T".
If you like hammond trios plus excellent saxophone playing then this CD is the right choice. Never boring, great artists and great soloing. Definitely one of my personal favorites of this year.
The CD made #1 on JazzWeek Radio chart and has been on the chart for more than 20 weeks.
Lucky me a got a signed CD from Dave Stryker when I saw him playing this spring at Marian's Jazzroom in Bern.
Here is again the  iTunes playlist if you want to hear yourself: