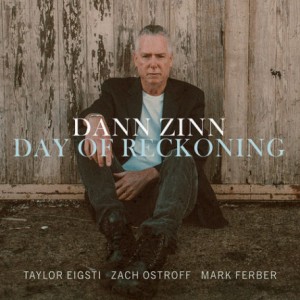 California based saxophonist Dann Zinn has just released his fantastic album "Day of Reckoning" where he presents nine new original compositions along with a great version of the classic ballad, "Blame It On My Youth." Zinn created this project specifically for his longtime collaborators Taylor Eigsti on piano, bassist Zach Ostroff and drummer, Mark Ferber.
"Day Of Reckoning" was recorded in the final weeks of the legendary Fantasy Studios in Berkeley, CA. Dann Zinn explains: "We ended up being in Studio A, which is actually the best sounding room in Fantasy Studios. However, we could only isolate the bass, which made for a really live situation. A live vibe but a studio sound. So, what you're hearing is just full on takes we played beginning to end."
The album starts with the title song "Day of Reckoning" a fast and energetic composition inspired by John Coltrane and Michael Brecker. The song starts at full throttle, with a great saxophone solo, slowing down for the bass solo and gathering speed again for the piano solo. This song is one of my favorite songs on the album and what impresses me most is the energy and the power of drummer Mark Ferber. Dann Zinn has some more details about Mark Ferber: "I wanted the New York vibe on drums, kind of more energy and excitement then you typically find on the west-coast kind of musicians." Excellent choice.
"Longing" comes next and this tune is Dann's favorite tune on the album. It starts very calm with a centered and pretty piano intro inspired by cinematic music. The melody is played in different keys like in classical music. The solo part alternates between piano and saxophone and the song winds down at the end with the theme from the intro. Dann has again some more information: "It was written very quickly. I turned on the voice memo on my mobile phone and played the melody. I played it to the guys and they came with all those elements. The melody changes keys and the band keeps adding stuff."
The album continues with "Continental Divide". It starts very energetic as a duet between sax and drums in the tradition of Michael Brecker (to whom the album is partly dedicated) and Jack DeJohnette. The singable melody is very much inspired by pop-music melodies and the bridge makes some weird jumps. We hear brilliant solos from Taylor Eigsti on piano and Dann Zinn on saxophone.
"Blame It On My Youth" the only standard on this album comes next. Dann has some more details: "We played it in the studio and everybody took a solo. The song was about 10 minutes long and we had to shorten it. For the piano solo the changes move twice as fast with a half time speed and for the sax solo the changes move normal but with double time feel. This helped to compress the tune. The end was played very spontaneous and is one of my favorite parts of the record." A very beautiful ballad and also one of my highlights of this album.
"Brave New World" was written in "one fell swoop" as Dann Zinn explains in his podcast: "I picked up my sax, pulled out my phone, hit voice memo and played the song from beginning to the end, so the melody you hear came out in one fell swoop. I wrote it down, went to the piano and made chords, and voila. For a song I would like to give a good anchor, give a good beat and have a melody that can stick in your head." This song is no exception. Great melody and and an easy to follow form with a very traditional Latin/Swing mix for the groove. Dann plays a fantastic saxophone solo and we hear the live sound during the bass solo with Zach's voice accompanying his improvisation.
Dann has started a nice podcast where he presents once per week a lot of background information for each song and where I could collect all those details for the first five songs of the album. So for the remaining five songs I would recommend that you follow this podcast under:
https://www.dannzinn.com/podcasts/
Dann shows his versatility on "Infinity Road" where he switches to soprano sax and on "The Journey Home" where he picks up the flute.
"Family Reunion" and "Don't Look Back" impress with singable melodies and "Time's Up" is a nice grooving modern jazz composition.
Altogether this album is a great example of contemporary jazz music where saxophonist Dann Zinn has gathered some fine musicians and recorded the music he loves to play. The focus is jazz music but the inspiration and the compositional elements come from different sources like jazz, pop, cinematic and classical music and lead to an excellent album which I can really recommend.
Two official CD release concerts take place on May 30 in San Jose and May 31 in Oakland. So, time enough to organize your trip if you don't want to miss these events.
Dann has a nice website with a lot of background information and updates on live performances under:
https://www.dannzinn.com/
And finally a complete playlist for the album on Spotify: