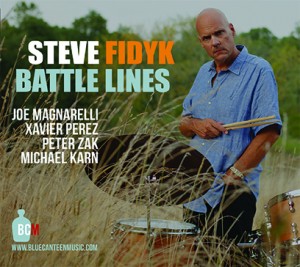 Jazz drummer and composer Steve Fidyk has just released the album "Battle Lines", his third recording as a leader. The album features an all-star band of some of the finest musicians from the New York scene:
Steve Fidyk – Drums
Joe Magnarelli – Trumpet
Xavier Perez – Tenor Saxophone
Peter Zak – Piano
Michael Karn – Bass
The album starts with "Ignominy", a composition by tenor saxophonist Eddie Harris. The tune is a straight jazz composition with an unusual length of 20 measures. We hear solos by Xavier Perez on saxophone, Joe Magnarelli on trumpet and Peter Zak on piano. A nice swinging start into this recording.
"Battle Lines", the title song of the album comes next. It is the first of seven originals by Steve Fidyk.
The up-tempo piece features piano and saxophone and also Steve on drums. Great solos from all musicians and a pushing rhythm section make this song to my first highlight on the album.
The album continues with "Loopholes". Steve has some information here: "I set out to write a 'groove tune' for this project; something that felt good and had a dance sensibility to it. I came up with the title idea as an extension from previous compositions I wrote for other solo recordings: The Flip Flopper (from Heads Up!) and Gaffe (from Allied Forces). Loopholes follows suit and was conceived with a similar approach. This tune features a funky swing feel with a 16-bar (A) and (B) section with solos by Joe Magnarelli, Xavier Perez and Peter Zak".
"Thank You (Dziekuje)" by Dave Brubeck comes next. The Chopin inspired piece entitled Dziekuje, meaning "thank you" is an expression of gratitude for the fans of Brubeck during his 1958 visit to Poland. The song is arranged as a jazz waltz and has a great melody. Outstanding is the piano solo by Peter Zak. Definitely another highlight on the album.
"Bebop Operations" is the next song on the album. Great to hear that kind of music. The classic Bebop-feeling with trumpet, saxophone and rhythm section is brought alive in this song. The solos are also inspired in classic Bebop manner, entertaining and educational at the same time.
The album continues with "Bootlickers Blues", a strange blues with a strange title. Steve explains: "A 'bootlicker' is a person who tries to gain influence or favor through a servile, obsequious or brown-nosing manner. The tune features a standard 12-measure blues form with a few measures of '3/4 time' mixed in to keep things interesting. The first chorus of piano and tenor follow the form of the melody, before breaking into a hard driving swing feel in 4/4 time over the blues form. The drum solo that follows the tenor is two choruses, accompanied by the bass and piano, over the form of the melody".
"Lullaby for Lori and John" is a ballad which Steve Fidyk composed for his late parents. Steve has again some more details: "My folks had a traditional, 'old school' relationship for 60 years. My father worked 40+ hour weeks as a machinist at TOPPS Chewing Gum Factory, and my mom stayed home, raising myself and three siblings. When I was young, my father would also play gigs with his trio on tenor saxophone. On occasion, he would take me out with him on a Saturday night to hear his group play, and the drummer would let me sit in on a tune or two as the night came to a close. 'Lullaby for Lori and John' was recorded in one take and I was in tears by the end of it. It features the incredible fluegelhorn sound of Joe Magnarelli".
"Churn" an up-tempo original in 6/8 meter is the next song. Steve has another chance to shine in an accompanied drum solo over the introduction vamp played by Michael Karn on bass.
The album continues with "Steeplechase" by Charlie Parker. Second chance to hear the Bebop class of this band. The song features Xavier Perez on tenor saxophone and Peter Zak on piano and a classical 8/8 trading solos with the drums.
"#Social Loafing" is the next song dedicated to those who spend an excessive amount of time on social media. This original by Steve Fidyk comes as a medium swinger with straight chord progressions and the band enjoys this with nice solos by Xavier Perez, Joe Magnarelli, Peter Zak and a 1/2 chorus of drums on the first two A-sections of the final head.
The album finishes with "Sir John", composed and recorded by trumpet legend Blue Mitchell on his 1960 LP Blue's Moods. The original recording features Wynton Kelly on piano, Sam Jones on bass and Roy Brooks on drums. "Sir John" is a cool standard blues and it showcases solos by each member.
"Battle Lines" is an excellent jazz album with an outstanding cast of musicians. The music is rooted deeply in the Bebop tradition and the band masters the various styles with ease and a wink. It's good to hear that this music is so alive and vibrant it shows that there is sometimes no need for major experiments in Jazz music, just have fun and play and the result will be brilliant.
More information about Steve Fidyk and upcoming shows are found on his website:
https://stevefidyk.com
And finally the complete album on Spotify: