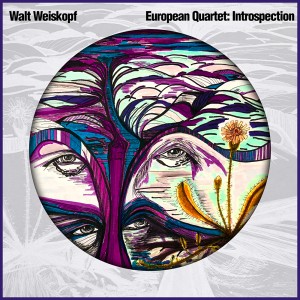 American saxophonist, composer and author Walt Weiskopf has just released his latest album "Introspection".  The new material was recorded in Copenhagen during a recent Walt Weiskopf European Quartet (WWEQ) European tour in January and February.
Walt Weiskopf has released 20 CDs featuring a stellar cast of the best contemporary jazz musicians including Brad Mehldau, John Pattituci or Joe Magnarelli. He is also known as an active member of the Steely Dan band.
The six-track album features pianist Carl Winther, bassist Andreas Lang and drummer Anders Mogensen (he plays in the Søren Bebe Trio which I portraited last year).
The album starts with the title song "Introspection", an original from Walt Weiskopf. The bass presents the groove and Walt plays the odd melody. He is also the first soloist and he shows off (a little bit) with a very intensive solo followed by Carl Winther who plays much more relaxed. Nice contrast between these two solos.
The album continues with "The Peacocks" by Jimmy Rowles, a beautiful ballad with a strange melody with big interval jumps. Solos go to piano and sax. Walt Weiskopf impresses with his long and clear notes. This song is my first highlight on the album.
The next song is "Dot-Dash" a medium-up tempo hard bop tune written by Walt Weiskopf. The solos start with saxophone followed by a great piano solo. Anders Mogensen on drums is the last soloist here.
"Estrangeiro"  is another original from Walt Weiskopf. The mood of this song is relaxed, Latin-inspired with a simple melody with long notes. Soloists are again sax and piano.
"You Know I Care" a ballad by composed by Duke Pearson comes next. This ballad is again played beautifully by Walt Weiskopf and so I think this is the material he enjoys the most.
The EP ends with "Be My Love" by Nicholas Brodszky. A nice and easy swinging tune. Perfectly relaxed played and another highlight for me. The solos by sax and piano are excellently supported by bass and drums. Finally Andreas Lang gets his chance for a great bass solo chorus.
Walt Weiskopf and his European Quartet is a well-rehearsed combination. This cast has recorded now two albums together and so they know each other every well. You feel the unity and the togetherness of these excellent musicians. Walt Weiskopf is able to add the New York spirit and drive to those Scandinavian musicians and the inspiration for the beautiful ballads might be owed to the elegiac Scandinavian music. An excellent combination and and a perfect completion.
The band was on tour in Europe in January and I unfortunately missed the concert in Basel. So let's hope these musicians stay together and start touring again.
More details about Walt Weiskopf are found on his website:
https://waltweiskopf.com/
And finally the album on Spotify: