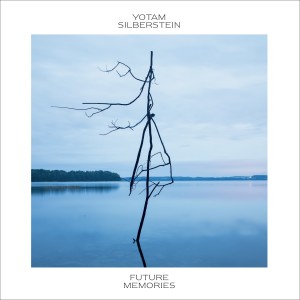 NYC guitar player Yotam Silberstein has just released a new album called "Future Memories". Yotam is one of the most remarkable guitar players on the Jazz scene today and he is accompanied by other extraordinary musicians foremost bass player John Patitucci.
The complete line-up is:
Yotam Silberstein: guitar, vocals, percussions
Vitor Gonçalves: piano, accordion, keyboard, percussions
Glenn Zaleski: piano, Fender Rhodes
John Patitucci: acoustic and electric bass
Daniel Dor: drums, percussions
Andre Mehmari: synthesizers
The album has been recorded in January 2018 but it needed the additional help of a crowdfunding project to finance the release of this album.
Officially released on March 1, 2019 the album contains mostly original music from Yotam Silberstein which he has been playing on tours around the world for the last couple of years. He is traveling constantly and during his travels he is also studying a lot of music, mostly the music of Brazil, Argentina, Uruguay, Peru, Venezuela, and north Africa. These influences combined with his knowledge of Jazz, Blues, Israeli and Arabic music (Yotam grew up in Tel Aviv, Israel) has merged into something very unique.
The album starts with the title song "Future Memories", softly and relaxed with a very simple melody, the solo from Yotam Silberstein also feels very open, unintrusive but intensive at the same time, especially Daniel Dor on drums adds the extra push.  In the long outro of the song we hear Vitor Gonçalves on accordion, which gives the song the special musette feeling, all very sophisticated.
The album continues with "Matcha" a fast and pushy contemporary Jazz tune. Great solos by Yotam Silberstein, Glenn Zaleski on piano and Daniel Dor on drums. I found a video of this song:

"Wind On The Lake" is more like an impressionistic musical painting with acoustic guitar and acoustic piano background supporting the electric guitar playing the melody. After a piano solo we hear the melody again, this time with Yotam singing and playing it on the guitar. The song ends with an incredible guitar solo with great dynamics.
"Impedimento" starts with a intensive latin groove and features again Vitor Gonçalves on accordion. He and Yotam play solos on this gorgeous Brazilian samba.
"Night Walk" the next song has short intro by John Patitucci and is a softer song again with beautiful harmonies, in Latin style with John Patitucci on electric bass, Glenn Zaleski on Fender Rhodes and Andre Mehmari on synthesizers which defines the special more "electric" sound of this tune.
The next song "Capricho de Donga" is a composition by Brazilian bandolin player and composer Hamilton de Holanda and shows the virtuosity of all musicians. Solos are by Vitor Gonçalves on piano, Yotam Silberstein on guitar and John Patitucci on bass. This song is one of my favorites on the album, a great composition that requires mastery on the instrument.
"A Picture of Yafo" comes next and this composition by Yotam Silberstein follows his composition pattern with a simple melody, played this time by John Patitucci on a fretless bass,  and an open improvisation part that gives a lot of space to the soloist.
A second capricho by Hamilton de Holanda comes next. "Capricho de Espanha" sounds like an etude for the advanced student. The solo part has an open first part where Yotam Silberstein plays in harmonic minor to emphasize on the Spanish character. The second part of the solo are regular chord changes. Glenn Zaleski on piano is the second soloist. During the first part of his solo he gets great support from Yotam on guitar and Daniel Dor on drums, it sounds like Glenn and Daniel have a real similar understanding since they connect so well.
"Choro Negro", the last song of the album, a composition by Brazilian guitar player and composer Paulinho da Viola, is a beautiful duet between Vitor Gonçalves on piano and Yotam Silberstein on electric guitar. Sometimes you don't need more than that, a gorgeous ending of this album.
Yotam Silberstein is very proud of this album, he said: "Together with an amazing group of musicians and humans, I went into the studio in Brooklyn, NY and after 3 intense days, we came up with what I consider my best work so far." I think he has every reason for being proud. "Future Memories" is an album with a lot of rich facets of contemporary jazz music. The sound, the compositions and the groove are heavily influenced especially by Brazilian music and sets this album apart from the Jazz mainstream.
Yotam is currently on tour in Europe, in the next 10 days he will play in the UK, Sweden, Norway, 3 x in the Netherlands, Germany, Poland and France. In November he will be in Muri AG, Switzerland, so I saved November 3, 2019 already in my calendar. More tour dates are found on Yotam's website:
A promotional video for the album is also available:

And finally a playlist on Spotify for you: