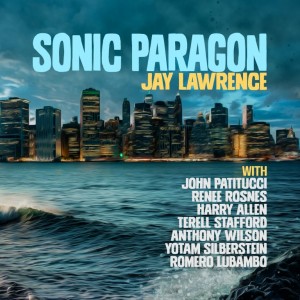 An album that was released in August 2018 from drummer Jay Lawrence caught recently my attention. The major reason for that was the line-up of this album:
Jay Lawrence – drums
John Patituci – bass
Renee Rosnes – piano
Harry Allen – saxophone
Terell Stafford – trumpet
Anthony Wilson – guitar
Yotam Silberstein – guitar
Romero Lubambo – guitar
Three excellent guitar players, one of the best bass players on the scene and a great saxophonist for an album of a drummer: a very interesting  combination that works perfectly. The result is an album that contains a combination of originals, standards and a cover version of Jimi Hendrix's "Crosstown Traffic".  The same variety is equally found in the arrangements. You find easy grooves, swing tunes, different latin styles, straight jazz and ballads.
The album starts with "Full Moon in Havanna", a soft and relaxed song, dominated by the saxophone and Romero Lubambo on acoustic guitar.
"What 'll I do" is an old Irving Berlin tune in an fantastic new arrangement featuring Jay Lawrence in the syncopated played melody. The solos are accompanied by a straight swinging band.
"Vamonos" comes with a samba groove and features Terell Stafford on trumpet and Yotam Silberstein on guitar. Jay Lawrence gets another chance to shine soloing over an extended montuno.
"Slide" is in contrast a very slow blues. We hear solos by John Patituci on bass, Renee Rosnes on piano and a outstanding plunger muted trumpet solo by Terell Stafford.
"Maria" from the musical "West Side Story" in a fantastic new latin version comes next. Nice grooving band again with Roberto Lubambo on acoustic guitar.
"Dayspring" is a soft ballad featuring Harry Allen on saxophone and Renee Rosnes on piano in two great solos.
"From Nadir to Zenith" is a heavy grooving tune with Terell Stafford on muted trumpet in an alternating solo with Anthony Wilson on guitar.
The title song "Sonic Paragon" comes next. This is a straight-ahead jazz song with impressive solos by Harry Allen on saxophone and Anthony Wilson on guitar.
"Tchoupitoulas" is a song with a special groove and sound, dominated by the trumpet and very much inspired by New Orleans brass band sound.
"Golden Ratio" is a modern jazz tune with sax and Yotam Silberstein on guitar playing the melody interrupted by an interlude in a Reggae groove, very sophisticated.
"Crosstown Traffic" by Jimi Hendrix in a modern jazz-style  up-tempo arrangement is the next song. Solos go to saxophone and Yotam Silberstein on guitar and their playing fits perfectly into this song. A drum solo tops this tune off.
The album closes with a easy swinging "My Winsome Consort" with a Monk-inspired piano solo by Renee Rosnes. Harry Allen plays a smooth saxophone solo and shows his versatility to adapt to different styles. An alternating bass and drum solo guarantee that this song gets it's special touch.
Overall "Sonic Paragon" is a great album that captivated me with it's perfect playing, it's versatility and it's surprising elements in every song. So take your time to listen to the songs carefully and you will detect the excellence of the material and the musicians.
Listen to the whole album with this playlist on Spotify: