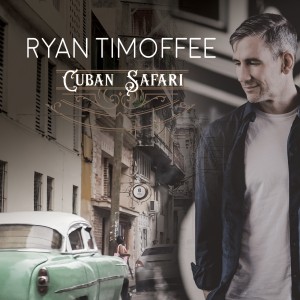 Today's album comes from Ryan Timoffee, a piano player, composer and producer from Edmonton, Alberta, Canada. He composed, arranged, produced and played piano and keyboards on his debut solo album "Cuban Safari" which was released on November 12.
The album features an all-star line-up of Cuban musicians from Camaguey, Havana, New York, Miami and Los Angeles:
Keyboards – Ryan Timoffee
Bass – Daymar Calvario
Percussion – Daniel Rodriguez
Saxophone – Yasel Barreras Sifontes
Trumpet – Randy Veitia Godinez
Flute – Javier Porta
Guitar – Dean Faulkner
Tres – Yuniel Jimenez
Trombone – Diana Osumy Sainz Mena
Guitar – Roman Lajara
Vocals – Yoandri Castro
Ryan explains on his website: "In 2017 I had been on a composing frenzy and everything I wrote had Cuban flavor. Since I returned from Cuba for the second time in January, I felt very connected to the music of the island and it was manifesting in everything I wrote. So my next step was to turn my Cuban-influenced themes into something real."
The project became real, but the realization was not straight-forward, it turned out to be an adventure.
Ryan continues: "The band recorded at an unknown studio in the Castro compound in Havana. Police pay-offs, a jam-packed vehicle full of musicians, 14-hour sessions, a missing sound engineer and detours around the Hurricane-flooded streets of Old Havana brought the world this hard-fought victory for music."
Nevertheless, the result of this fight is an excellent album that combines a wide range of authentic Cuban grooves like Timba, Son Montuno, Mozambique and Cha cha cha with Funk, Soul and Jazz elements, it is old-fashioned and modern at the same time.
The album starts with "Super Tren", bass and horns play the melody very precise and accentuated. The first solo goes to Ryan on piano, he starts softly and relaxed, dynamics increase and prepare us for a trumpet solo and percussion fills. The band grooves perfectly, the horns are sharp, the trumpet plays high and we see that these guys know what they are doing.
"Bambino" comes next and continues in the traditional Salsa style, but the song gets it special touch from the electronic piano sound. The horn section is extended with Diana Osumy Sainz Mena on trombone.
"Bolo" has a steady funk groove dominated by Dean Faulkner on guitar. The solos go to saxophone and guitar, followed by a dialog between drums and bass.  A nice change in style and my first highlight on this album.
"Guajira" is going back to traditional Afro-Cuban music. Yuniel Jimenez on tres opens the song and plays an excellent solo. Randy Veitia Godinez on trumpet again shows his mastery and the song ends with vocals. Yoandri Castro as lead singer and Yasel Barreras Sifontes singing background carry us away.
"Bio Ritmo" is the next tune and this is another Salsa tune with a great piano solo, increasing intensity by the horn section and a steady pushing bass by an outstanding Daymar Calvario.
"Border Control" the next song, is a Cha cha cha. The first solo goes to Yasel Barreras Sifontes on saxophone, followed by Ryan Timoffee on piano and Daniel Rodriguez on percussion.
"Persigueme" introduces Javier Porta on flute and Ryan Timoffee on a Fender rhodes e-piano. A pushing groove by bass and percussion lay the foundation for a modern latin song. This is one of my favorites on the album.
"Fantasma" is a tune with a funny melody but returns to a classic Salsa song when the piano starts with the montuno. We hear a short bass solo, a piano solo and another great finale from the  trumpet.
"Cohiba Funk" is the second funk tune on this album, again with a grooving guitar by Dean Faulkner. The melody is played by the flute which gives the song its unique character. Ryan plays a nice solo on the Fender rhodes.
"Tapp Timba" is the last song on the album. It reminds me a little bit on fusion bands like the Brecker Brothers but with a Cuban percussion section.  Cool horns, a brillant guitar by Roman Lajaraa and funky slapping bass are the ingredients for another fantastic tune and a great finale of the album.
There is a Youtube video available for this song which I don't want to keep back from you:

To sum it up, "Cuban Safari" is an excellent album with a lot of variety in it. The songs are perfectly arranged and Ryan Timoffee found a bunch of incredible musicians to record this album. The combination of traditional Cuban music, Jazz and Funk works perfectly and creates an entertaining and diverse album which I can highly recommend.
Some more background information about the musicians and the genesis of this album are found on Ryan's website:
http://ryantimoffee.com/index.php/about/
And a playlist on Spotify to listen to the album: