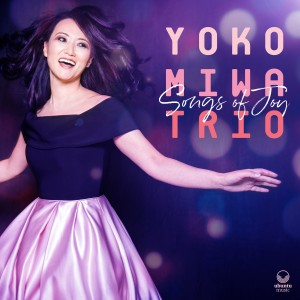 Boston-based pianist Yoko Miwa has released a great new album called "Songs of Joy" on Ubuntu records. Official release date was last Friday, February 12.
A native of Kobe, Japan, Miwa studied with Minoru Ozone, a popular television organist and nightclub owner. Miwa worked at Ozone's club until the great Kobe earthquake of 1995 destroyed it. She won first prize in a scholarship competition to attend Berklee and began quickly playing with students and teachers, including vocalist Kevin Mahogany, who chose the pianist to serve as accompanist in his classes and on his gigs.
On "Songs of Joy" she is accompanied by Will Slater and Brad Barett on acoustic bass and Scott Goulding on drums.
The album contains five originals which are the result of Yoko's decision to start composing every day when the pandemic started. The six other songs have been carefully selected to match with the overall spirit of this recording.
The album starts with "Freedom" by Richie Havens, a powerful song and a powerful version by Yoko Miwa, the dense groove by bass and drums and the heavy-McCoy Tyner like chords create a great energy. Excellent and fantastic opener.
The album continues with "Largo Desolato" the first original by Yoko Miwa, the odd and modal groove in the A-part and the more conventional harmonies in the B-part of the song are in nice contrast and give this tune an interesting mixture. Yoko Miwa's solo is again powerful and precise. As an encore of this song we hear a drum solo by Scott Goulding. One of my highlights on the album.
"Song of Joy", somehow the title song of this album Billy Preston comes next. This beautiful ballad indulges in the great and simple harmonies and melody of this song. I wished this song would never end and just continue forever. Outstanding.
"Small Talk" is the next composition by Yoko Miwa and it is a nice and easy swinging tune in good contrast to the song we heard before. Nevertheless her solo is again impressive. A jam-style 4 x 4 exchange with drums finishes the solos.
"The Lonely Hours" another original by Yoko features Will Slater on bass. This soft and melodic song is in best modern European jazz piano trio tradition.
"No problem" by Duke Jordan increases the pace again. This medium-up jazz tune presents again a brave and hard swinging Yoko Miwa.
"The Rainbirds" is the next composition by Yoko. The piano lays out the latin groove and feel of this song. Will Slater gets another chance for a nice bass solo.
The album continues wit the Thelonious Monk composition "Think of One" . Yoko plays an interesting left hand with the simple melody. The solo starts and finishes as a dialog with the bass player and sounds quite Monk-ish. Will Slater on bass takes over seamlessly for his bass solo. A drums solo closes this very sophisticated version of Monk's tune.
"Inside a Dream" is the last original on the album. Again, great melody and beautiful harmonies are the main characteristics of this easy song.
"Tony's Blues" by Tony Germain is the next song. This minor standard blues is in a nice medium tempo allowing the band again to swing hard. Impressive block chords in Yoko Miwa's piano solo.
The album closes with "Babe I'm Gonna Leave You" by Anne Bredon. Brad Barett plays the melody on his bowed bass with soft drums and piano arpeggios. In the second half of this song Yoko Miwa and her powerful piano playing push this song significantly.
Yoko Miwa's ninth album convinces with its great selection of originals and songs by other jazz, pop and folk musicians. Her piano playing is powerful and precise and always incredibly musical. Her fellow musicians on this album know how to support a pianist perfectly. So please listen to this album and enjoy the energy and the positive spirit of "Songs of Joy".
Yoko has produced a lovely teaser video for this album which I would like to share with you:

More information is found on her website:
http://www.yokomiwa.com/
And here comes the album as playlist on Spotify: