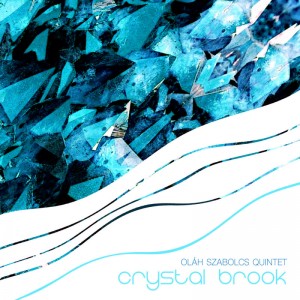 A brand new album from Hungary found it's way to my mailbox.
Jazz guitarist, composer and arranger Szabolcs Oláh released his latest album "Crystal Brook" on September 6.
Szabolcs Oláh started his first quartet in 2002, which won awards in Hungary and Italy and he is one of the founding members of the Modern Art Orchestra. He leads his own quintet since 2012. The current line-up of the quintet is:
Szabolcs Oláh – guitar
János Ávéd – saxophone
Gábor Cseke – piano
Ádám Bögöthy – double bass
László Csízi – drums
The album was recorded in April 2019 and contains 10 original songs all composed by Szabolcs. He says about this album: "My intention for the compositions was to keep it simple, smooth and crystal clear, yet dynamic, like a japanese calligraphy".
He also told me how he wrote the songs:  "My method for composing for this album was quite simple. I sat down in the morning at the piano and I improvised. Sometimes these improvisations became songs that I wrote down and started to collect."
The first song is called "Pearls" which has an energetic intro and a beautiful melody played unison by sax and guitar (a characteristic which we will hear in many other songs on this album). Dynamics are reduced at the beginning of Szabolcs' solo, but increase throughout his solo. The second solo goes to János Ávéd on saxophone, followed by a piano solo. Bass and drums support the soloists perfectly, this song is great opener for the album.
"The Last Teardrop" is a melancholic tune, again with a lovely melody and a superb piano solo by Gábor Cseke.
"Return to the Park" is the next song and Szabolcs has some background information: "It's about the joy of returning to play music with my friends, like a child that enjoys to play in the park. Between 2010 and 2012 I was ill and I rarely played live, so this song is also about the recovery". A song that has a lot of positive vibrations and became one of my highlights on the album.
"Never Again" is a soft song with many modulations, quite complex harmonic structures. Szabolcs' solo however floats easily over these harmonies.
"Dawn Rider" comes next. Szabolcs has more details: "The song is about a motorcyclist, driving fast into the dawn after breaking up with his love". A song that is sad and happy at the same time. The band has produced a nice video from the recoding session of this song:

"Runaway" is my second highlight on this album. It starts with a great guitar intro, it has an incredible melody and fantastic solos by guitar, soprano saxophone, bass and piano.
"Crystal Brook" the title song is like a romantic painting. Szabolcs explains: "This song reminds me of moonlight gleaming on a crystal clear mountain brook."
The next tune is called "Good Boy" and it's about the young Szabolcs, "a well-behaved and dutiful child", as he told me. The melody sounds like nursery rhyme but opens nicely for the solos.
"Unfolding Life" is much softer and slower but still has its pace and allows for brillant solos.
The album ends with the ballad "Lunar Muse". The melody has some "tension and release" as Szabolcs told me. Gábor Cseke plays another excellent piano solo and the album ends in deep melancholy. Very impressive.
Szabolcs Oláh has played some concerts in the last few weeks with his quintet and he said "the feedback on the new album was very positive and inspiring". There are more concerts to come so if you plan to visit Budapest, check for the local jazz scene because it has some great musicians including Szabolcs and his quintet or the Modern Art Orchestra. Please check for dates on his website:
https://www.szabolcsolahmusic.com/
The album is available on Spotify: