Today I would like to present an extraordinary guitar player. His name is Graham Dechter and I had the chance to see him live in Bern at Marian's Jazzclub on October 17 (see the picture above).
He joined the Clayton-Hamilton Jazz Orchestra when he was 19. In 2011, he played on Michael Bublé's best-selling "Christmas" album and made followup television appearances backing the popular singer on The Today Show, Regis & Kelly, the Rockefeller Center Christmas Tree Lighting and on Michael Bublé's NBC Christmas special.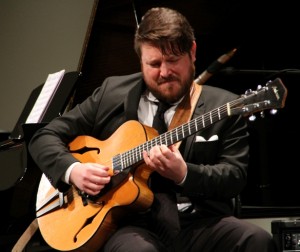 Graham Dechter follows in the lineage of his guitar heroes like Wes Montgomery, Barney Kessel, Grant Green and Herb Ellis. "I tend to veer towards the real swinging stuff," says Dechter. "I love listening to and appreciate many different styles of music, both within and out of the jazz idiom. But in terms of my own conception, I really live in that swinging realm. Guitarists like Wes Montgomery and Barney Kessel, as well as other instrumentalists like Oscar Peterson, Ray Brown and Ben Webster — all of those musicians have been a huge influence on my playing.".
Especially Barney Kessel is his main influence. He came to Bern with his Lineage Trio with Alex Frank on double bass and Ryan Shaw on drums and the idea of this trio is to build the lineage from the Poll Winner Trio Barney Kessel, Ray Brown and Shelly Manne into today's Jazz scene. All three musicians have their direct or indirect personal relation to these three poll winners and so they strongly relate to this heritage. The music itself is entertaining and sophisticated, swinging and in line with the tradition.
If you get the chance to listen to these guys, don't miss it. Graham Dechter is really one of the most remarkable guitar players on the scene and his Lineage Trio is a treat for your ears.
The trio brought a nice EP with them, which I bought and (as you can see) got signed. All five songs on this EP are part of their standard repertoire, so a nice souvenir form this evening. Unfortunately, these songs are not published online.
Here is a promotional video for his album "Takin' It There":

Another video with his Lineage Trio:
And finally links to his website and to the Lineage Trio website:
http://grahamdechter.com/
http://www.lineagetrio.com/