Steve Smith's "Groove Blue Trio" was in Bern last week and played five nights at Marians Jazzroom.  With Steve Smith on drums came Vinny Valentino on guitar and Tony Monaco on the hammond B3 organ.
I saw Steve Smith and Vinny Valentino before and they are excellent musicians but today I would like to focus on Tony Monaco. I heard him playing on some Pat Martino albums but last week was the first time that I could see him performing live. It was good to see him alive and healthy because he recovered from a major blockage of his widomaker artery.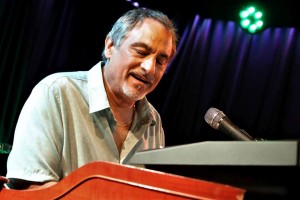 Tony Monaco began his keyboard life at age eight, so he plays the organ now for 51 years. His destiny as a jazz organist was sealed when he first heard Jimmy Smith. Tony began working in Jazz clubs as a teenager in his home town Columbus, Ohio, guided by local organ gurus Hank Marr and Don Patterson.
In April 2000, Tony met fellow jazz organist Joey DeFrancesco, who offered to produce his debut CD "Burnin Grooves". The international success of the recording helped him to become a sought-after sideman. Tony toured and recorded with Pat Martino for over two years. Tony is an accomplished teacher as well. He has produced a series of instructional DVDs titled "Playing Jazz Hammond" that have become indispensable for many serious students of the organ. He released his 11th international CD "The Definition of Insanity" on Chicken Coup Records January 2019.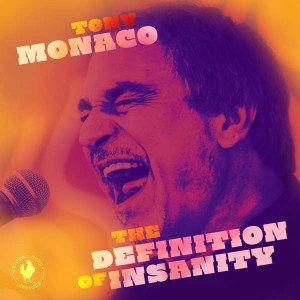 The album refers to the situation in the last years where he suffered health problems and became father at the same time, that's what he called insanity. What he also wanted to achieve with this album is to look out for new musical directions. Tony explains: "With this project I wanted to present music that I love and I do it in a way I love to do it without an agenda". Tony plays the organ, the accordion and he sings, his wife Asako plays piano on one song, guitarist Derek DiCenzo and drummer Tony McClung, both from Columbus, Ohio support Tony Monaco on this CD.
The album contains songs from Phish ("Cars Trucks Buses"), Greateful Dead ("Truckin'"), "Never Let Me Go" as a reminiscence to the late Roy Hargrove, an excellent grooving funky version of Jimmy Smith's "Root Down", a very light version of "Quando Quando Quando", the traditional Neapolitan song "Non Ti Scordare Di Me", where Tony sings and plays the accordion and finally "A Song For You" by Leon Russell.
The album is a very personal and eclectic collection, all songs are played with a lot of heart and soul and so this albums gets a clear recommendation from me.
Tony is currently on tour with Steve Smith's "Groove Blue Trio" and he told me that this band is about to record a new album. So look out for more Tony Monaco in the next months.
The album "The Definition of Insanity" on Spotify:

A nice video where Tony plays solo the song "Indonesian Nights":

And finally a link to his website;
https://b3monaco.com