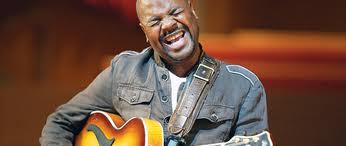 Saturday, January 18 was Bobby Broom's birthday and I had the chance to see him on this day with Dennis Carroll on bass and Makaya McCraven on drums in Marian's Jazzroom in Bern. What I saw was quite convincing, the time was flying and the concert finished much too fast.
For a guitar trio this is quite an accomplishment since the three instruments produce only a certain range of sounds and the variety needs to come from the choice of tunes and the playing itself.
The band played a combination of well known songs with faster and slower tempi. They started with the pop song "I Can See Clearly Now" followed by the Charlie Chaplin tune "Smile". Both very popular songs but Bobby Broom and his trio gave these songs a new coat and they used the structure of the song for their own and rather extraordinary interpretation. Dennis Carroll has been playing with Bobby Broom for many years, and I think this deep understanding between bass and guitar gives this trio the unique character and strength.
The next song the band played was a ballad titled "Smoke Gets In Your Eyes". It's my wife's favorite ballad and I have some very nice recordings of this tune, but what I heard from Bobby Broom makes you never go back to any "standard" interpretation of that song.
The set finished with a blues and a traditional song, all again interpreted in the band's own unique way. We got another ballad as encore and then, as said before, the concert was over far too soon.
If you want to hear more from Bobby Broom use the iTunes links below. My personal favorites are the ballads "Smoke Gets In Your Eyes" and "Coming Home". I found it easier to access Bobby Broom's style through the ballads.
To close this review a quote from Pat Metheney from September 2008: "I have been a huge fan of Bobby since I first heard him with Sonny Rollins and his new one (the "Song and Dance" album) is one of the best guitar trio records ever."
Nothing to add here from my side.