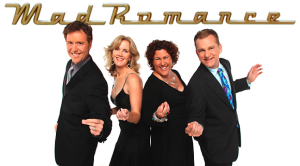 If you like vocal groups like Manhattan Transfer or New York Voices I have another classic vocal quartet from Miami for you: Mad Romance. The group released in 2011 a very nice album called "Aim High". The CD presents songs from the Great American Songbook, with some beautiful and refreshing arrangements done by leader Rick Harris who is also a professional trumpet player. Harris has re-formed this group with some big names from the Miami Jazz scene: Lisanne Lyons (voc), Wendy Pedersen (voc) and Greg Diaz (voc, sax).
The CD starts with a very funny version of "Pick Yourself Up" which features Rick Harris followed by "You Don't Know What Love Is" which I introduced to you some weeks ago. This song is a classic vocal quartet arrangement with a nice call-and-response solo by trumpet and saxophone.
The next song on the CD is a Salsa-inspired version of "How Long Has This Been Going On" featuring Wendy Pederson on vocals supported again by trumpet and saxophone.
The promise the band makes with these first three titles is kept throughout the CD. Every song is perfectly arranged and shows a different side of the technical and musical capabilities of the group.
"From This Moment On" is a swinging up-time Jazz standard, "Time of the Season" is a cover version of the Zombies' hit from the late sixties and "Yesterdays" a typical Jazz standard ballad.
"Aim Low" is a composition by Rick Harris and is somehow the title song of this album. The lyrics are very sarcastic, like "You wanna work, so aim low" and shows the arrogance and ignorance in the music business. The CD ends with "The Thrill Is Gone" which is again arranged as a Salsa.
I think the whole CD is brilliant and the voices fit excellently together. The variety of the arrangements is outstanding and the musical and instrumental skills of Rick Harris and Greg Diaz make this album a great experience. The best part for me are the Salsa arrangements, a Miami based vocal group should know how to do that. I hope I will have the chance to see this quartet once.
I created again a playlist for you, so you are able to listen to the songs:

The group has a website where you can download the song "Aim Low" and where you can find some more information about the band. Please look at www.madromance.com. Unfortunately I do not see any updated concert information.
The following video is also found on the website but since I think it's very entertaining I added it right here for you: