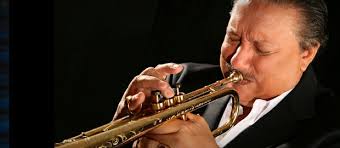 Last summer I saw Arturo Sandoval live in Fribourg (to be precise on July 9, 2013). We heard many tunes from the CD "Dear Diz (Every Day I Think of You)" and this concert was quite remarkable, because Arturo Sandoval was the jack-of-all-trades on stage, he was basically everywhere, playing his trumpet, he sang, played the piano and the timbales. But behind all this activities it was also possible to feel his deep reverence for Dizzy Gillespie, his friend and mentor. I bought the CD and it turned out to be one of my favorite CDs of last summer.
The music of Arturo Sandoval is full of energy, very rhythmic, inspired by his Cuban roots, perfectly arranged and excellently played. Arturo Sandoval is supported by many famous musicians like Gary Burton on vibraphone, Bob Mintzer on saxophone and organist Joey DeFrancesco. The result is a remarkable reminiscence to Dizzy Gillespie and his music and gives the "old" tunes a fresh new look and Arturo Sandoval's trumpet is shining and sparkling above all.
The CD starts with the excellently swinging "Be Bop" and a groovy Salsa inspired version of "Salt Peanuts", followed by the "Pink Panther – Henry Mancini" style arranged version of "Birks Works". After that the CD reaches it's first highlight with "Things To Come" which is really fast and furious.
We get a little bit of a break afterwards with the string quartet plus trumpet arrangement of "Con Alma" before the "must" tune "A Night in Tunisia" ends the regular part of the CD. If you haven't seen Arturo Sandoval playing this tune I have added a video for you, since this was also during the concert the best moment. And I guess this is perfectly in line with the way Dizzy Gillespie would understand how to play this song. You're not allowed to rest, you have to be brilliant and steal the show with this tune. 
The CD ends with the title song. In "Every Day I Think of You" you feel that Arturo Sandoval really misses Dizzy Gillespie, his long-time friend and mentor, the person who basically gave him a second chance in life after leaving Cuba.
If you want to know more about that special relationship you might also take a look at the 2001 movie "For Love or Country" (starring Andy Garcia, Mia Maestro and Gloria Estefan).
I think this CD is perfectly arranged and show that the music of Dizzy Gillespie and Be Bop in general have not added any rust, it is still the style we associate typically with Jazz music, and Arturo Sandoval is the true heir.
The first video shows you a live version of "Night in Tunisia":

The second video includes some interesting promotional material from Concord Records:

Finally, a link to the album if you want to hear some more…