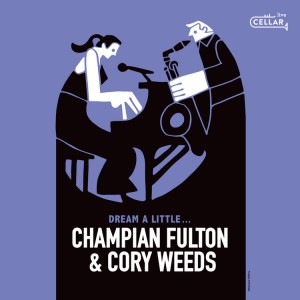 Pianist and vocalist Champian Fulton is back with a new album called "Dream a Little…". The album is a duet with alto sax player Cory Weeds from Vancouver, BC, Canada. It was recorded live at Norah's, which is a house in North Vancouver where Norah hosts intimate music events with an audience of about 40 people.
Champian has more details about Cory: "Cory and I made a record together in 2014, and we have wanted to make another one because we really enjoy playing together. Usually when we do a Canadian tour, we play one or two duo shows and it's always one of our favorite gigs, because the duo setting is so loose and freeing". Cory Weeds may be best known as the founder and owner of Cory Weeds' Cellar Jazz Club in Vancouver, which he successfully ran for more than 14 years. Weeds built the Cellar to become one of North America's best Jazz clubs. He is also an excellent saxophonist with an endless number of great musicians he was able to play with.
Champian is very proud of this album, because it highlights her piano playing and singing more than any other album she has made.
The selection of tunes comes from fan requests and features some of the most popular tunes from the Great American Songbook.
The album starts with the title song "Dream A Little Dream Of Me" which sets the stage for the whole album, easy and relaxed playing, perfectly swinging with a well-adjusted balance between saxophone voice and piano.
"Fly Me To The Moon" comes next and even if this song is played and heard so many times the open interpretation of Champian and the excellent sax solo by Cory gave me great pleasure.
"Lullaby Of Art" from Champian's "Speechless" album is the next song. This instrumental song gives Cory and Champian the opportunity for a longer and more expressive solo and both musicians make use of it. One of my highlights on the album.
The beautiful ballad "Darn That Dream" comes next. An open beginning with Champian singing and playing the piano , the second verse with saxophone fillings and then a very expressive sax solo  followed by an inventive piano solo which results in more than seven minutes of multi-colored entertainment.
"Pennies From Heaven" is then more steady with a walking piano bass line setting the foundation for Cory's and Champian's honky-tonk piano solo.
"Once I Had A Secret Love" increases the pace one more time and Cory Weeds gets another great moment to show his versatility and mastery with an excellent solo. Champian Fulton also plays a nice solo but she stays much cooler then Cory does.
The next song is "I Thought About You" and this is somehow the most important song on the album. More than nine minutes of rolling and growling of Champian on the piano and Cory Weeds in a bluesy mood give this song it's character.
The album continues with a swinging "Tangerine" in nice contrast after the earthy and heavy song before.
"I'd Give A Dollar For A Dime" comes next and the duo returns to their open and soft ballad music with Cory using the space this setup gives him.
The album closes with "Save Your Love For Me" and this song shows one more time the fun both musicians have and how much they enjoy the freedom in a duo.
This is just a nice album, recorded in an intimate live session with no extra effects, so it is music pure where two great artists show how much fun musicians and audience can have playing and listening to these popular songs. If you want to bring this spirit in your living or dining room then order this album and you have Champian Fulton and Cory Weeds playing exclusively for you. Enjoy, you will not regret it.
Champian Fulton is permanently on tour, she will be in Germany and Scandinavia in November and she is quite often performing in New York City.  I saw here some years ago in Estavayer in Switzerland which was great fun and she promised to be back in Bern hopefully next year.
More details and tour dates of Champian Fulton are found on her website:
http://www.champian.net/
And finally a playlist of this album on Spotify: