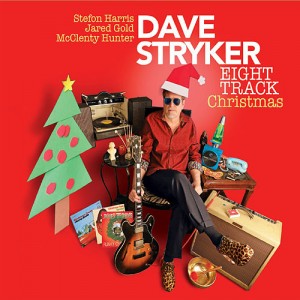 This years' Christmas album comes from Dave Stryker and his Eight Track band featuring:
Dave Stryker – guitar
Stefon Harris - vibraphone
Jared Gold – organ
McClenty Hunter – drums
The name of the band and the music they like to play comes from the time when an 8-Track player was a popular device. The group has released three very successful albums with songs from the 60′s and 70′s and tie in on the tradition of producing an album for the holiday season.
This album is not the classical Christmas CD with a lot of emotions, instead it is the cool buddy for the hectic season. An excellent organ trio plus an incredible vibraphone player guarantee the perfect groove.
The album starts with "This Christmas" from Donny Hathaway, quite cool and relaxed with a little bit of jingle bells and a bluesy Dave Stryker, perfectly played. The sound of this band is really exceptional and the vibraphone adds the unique note to the organ trio.
The traditional "What Child Is This?" comes next. This tune is arranged with a pushing 6/8 meter. Laurels are here for McClenty Hunter on drums who gives this song the special touch.
"God Rest Ye Merry Gentlemen", another traditional is the next song, arranged with a heavy groove and one more time the hint to listen to the drummer precisely.
The album continues with John Lennon's "Happy Xmas (War Is Over)" one of my favorite Christmas tunes. The end of the melody is played in unison by guitar (in octaves) and vibraphone which sounds really warm and soft but very jazzy.
"Soulful Frosty" is another highlight of the album, it is a melange of the two songs "Soulful Strut" and "Frosty The Snowman" very soulful indeed and very happy with the Frosty part where the compulsory jingle bells are added.
The Charlie Brown song "Christmas Time Is Here" by Vince Guaraldi, a beautiful ballad comes next. Guitar and vibraphone trade the melody, very soft and easy which gives this nice melody the space it needs to unfold in full. Very tasty background by drums and organ.
An up-tempo "Sleigh Ride" shows the band in jam-style with solos from all musicians.
"Blue Christmas" is the next song and it comes as an old-fashioned 12/8 groove with bluesy solos. My highlight of this song is the organ solo which ends in full gear pulling out all stops plus the Leslie speaker. Killer sound.
"We Three Kings" is another highlight of this album. This song sounds like a modal jazz tune with a breathtaking guitar solo.
The album ends with "O Tannenbaum" (with Steve Nelson on vibraphone).  This song was released before and shows a hard swinging band enjoying to play and to improvise over this famous traditional.
'Eight Track Christmas' is my choice for this holiday season, it is quite different from what you hear and what is recorded for this occasion, but since it is so cool relaxed and swinging Jazz music it shows much better the "true" spirit of Christmas then any other new album I have heard this year.
Enjoy, relax and have an eggnog on Dave and his fabulous Eight Track band.
More information about Dave Stryker, his projects and tour dates are found on his website:
https://www.davestryker.com
And finally a playlist of this album on Spotify: