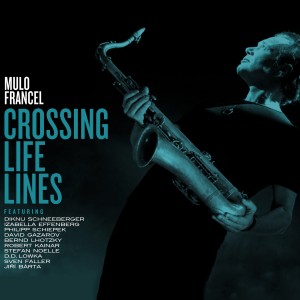 From Munich, Germany comes saxophonist, clarinetist and composer Mulo Francel. His newest project is called "Crossing Life Lines" and combines eleven musicians from Germany, Austria, Poland and Czech Republic with originals, Jazz standards and compositions from Chopin and Smetana in an album that celebrates that borders, which have been closed for many decades during the Cold War, are open and people that have been expelled from their home after World War II have found peace together in an united Europe.
Mulo Francel has some more details:
"I had been on tour with my band Quadro Nuevo in the Czech Republic and Poland. It took us all the way to Przemysl in the very east to a great accordion festival with a heartfelt audience. On our last evening we played in Gliwice. Jakub, the young concert organizer, invited us afterwards to a restaurant in the countryside where his brother cooked wonderfully. We talked until late and tried to translate jokes for each other. The home-made brandy from Jakub's father did the rest.
Still laughing I fell into my hotel bed. But soon I was rolling from one side to the other. The emotions of this journey left me no peace and on the contrary with a crucial question: How do I deal with the suffering caused by our grandfathers' generation? Do I address it? Do I apologize?
The end of the Second World War was over 75 years ago. Gone are the occupation, the internment, the mass rapes and killings, the expulsion from the homeland. Finished. At least in Central Europe and the bordering countries of Eastern Europe.
I was looking for excellent musicians who understand my concern. Who, because of their biography, have a sense for overcoming borders and building reconciling bridges between peoples. Such as the Polish vibraphonist Izabella Effenberg, who lives in Nuremberg, or the Viennese guitarist Diknu Schneeberger, who has Jenish and Sinti roots. People whose family-DNA historically carries "Slavic" & "Germanic", German-Bohemian & Czech-Bohemian, Sudeten German & Hungarian-Austrian, Jewish & Christian influences."
The full cast of this album is:
Diknu Schneeberger (guitar)
Izabella Effenberg (vibraphone, array mbira, steel drums)
Philipp Schiepek (guitar)
David Gazarov (piano)
Bernd Lhotzky (piano)
Robert Kainar (drums)
Stefan Noelle (drums)
D.D. Lowka (bass, percussion)
Sven Faller (bass)
Jiří Bárta (cello)
Mulo Francel (saxes, clarinet)
The album starts with 'Valse du Bohémien' an adaption of Bedřich Smetana's 'Moldau' arranged by Mulo Francel and presented as a pushing Jazz waltz. First song and first highlight on the album, so the appetite for more was raised.
The second song is an original by Mulo Francel and D.D. Lowka called 'Ada's Song' and is an homage to Mulo's grandmother. The melody has some of those 'killer' sounds where guitar, piano and vibraphone play the background and melody together. Beautiful solos come from Izabella Effenberg, Diknu Schneeberger, Bernd Lhotzky and Mulo Francel. Great old-fashioned swinging band with the Gypsy-touch added by Diknu Schneeberger.
The Jerome Kern standard 'Look for the Silver Lining' comes next, arranged in Reggae-style with Mulo Francel playing a beautiful clarinet.
'Schaschlik' (German for 'Shish Kebap') is a song in style of the music of David Gazarov's home town Baku. Mulo explains: "This song is played on weddings and grill parties. Composed of musical motifs of the multicultural Caucasian region. We had a lot of fun with this!"
'Lover Man' written for Billie Holiday is the next song, performed by Mulo Francel with the piano trio David Gazarov (p), Sven Faller (b) and Robert Kainar (d). An outstanding piano solo is the highlight of this tune.
We hear the same quartet in 'Blues in X Moll' a nice melancholic tune written by Mulo Francel.
'The Rabbi from Namysłów' by Sven Faller comes next. Mulo Francel and Philipp Schiepek on guitar play the melody beautifully together. The song was written in memoriam of Rabbi David Laqueur, the "forefather" of the clan of Sven's grandmother after a family reunion in 2017 in Poland. Great song and fantastic arrangement based on guitar and clarinet. Sven Faller gets the chance for a nice bass solo.
'Wiosna' (Polish for 'Spring') by Izabella Effenberg is the next song. The song starts soft and open with Izabella playing the array mbira. Fantastic groove by the rhythm section with Philipp Schiepek (g), Sven Faller (b) and Robert Kainar (d). Mulo Francel plays the soprano saxophone, another change in sound which makes this album so diversified and manifold.
The album continues with 'Ein Sommertag' (German for 'A summer day') by composer Hans Winterberg. Winterberg came from a Jewish family in Prague and was a survivor of the concentration camp in the ghetto of Theresienstadt. Born in 1901, he first grew up in the Empire of Austria, then, after World War I, became a citizen of Czechoslovakia, and after his emigration in 1947 a German in Bavaria. A typical résumé in the 20th century and a perfect example that identity is something unique and individual.
'September Remember' by Mulo Francel brings back the fantastic Diknu Schneeberger in another great swinging tune.
'Sám s děvčetem v dešti' (Czech for 'Alone with a Girl in the Rain') is an old hit song from the 1930′s from the Czech Republic and wallows in nostalgia. Old-fashioned swinging and featuring Jiří Bárta on cello.
'Naab' by Sven Faller is an homage to the river Naab which is the border between Germany and Czech Republic and can be crossed now freely. The spring of the river is in the middle of a remote, enchanted part of the Upper Palatinate Forest where you can stand with each foot in a different country. Drums and percussion set the rhythmic layer for the improvisations. A very powerful and energetic song.
'Frieda' by Philipp Schiepek is the next song. It remembers Philipp's grandmother who grew up in Bohemia and started a new life after the war in southern Germany. A soft song with Philipp Schiepek playing an acoustic guitar. Izabella Effenberg on vibraphone and Mulo Francel on tenor sax are the other soloists here.
The album finishes with 'Fredinand´s Prelude' a song based on Chopin's E-minor Prelude played in Rumba-style mixed with a Jelly Roll Morton piano interlude. Very entertaining late night music for the last dance before the bar closes.
Mulo Francel has produced a fantastic album with "Crossing Life Lines". All songs have beautiful melodies and are really great to listen, the band plays extraordinary, all involved musicians show their mastery and the result is of great excellence, an album which you can listen again and again and where you will detect new nuances every time you listen. It is also a very personal album for the musicians, they opened their photo albums and their personal history and let us participate in their feelings and emotions.
This great video (in German with English subtitles) explains this project in detail:

And finally the album as playlist on Spotify: