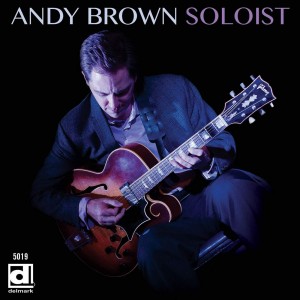 I think I have outed me as a great admirer of Ted Greene's style of guitar playing and I found an album that is in this tradition. The album is called "Soloist" and it is by Andy Brown, a guitar player from Chicago.
I found out about this album when I had the chance to see him live in Bern with Howard Alden. A very nice and entertaining concert, Howard Alden explained how the taught Sean Penn playing guitar and Andy Brown and Howard Alden played a solo tune and guess, who impressed me more: Andy Brown. So I got his CD from 2015 on iTunes and it is currently one of my favorites.
So a clear recommendation if you like solo jazz guitar, picking, flageolets and a be bop oriented swinging  music.
The video is from the CD release party for Andy's 2015 Delmark Records release "Soloist."