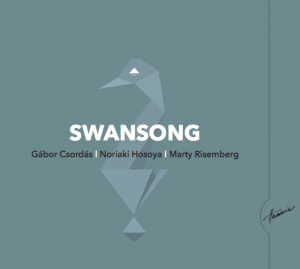 Hungarian pianist Gábor Csordás released his excellent album "Swansong" on March 25, 2019. The line-up of this album is truly international with three musicians from three continents:
Gábor Csordás (Hungary) – piano
Noriaki Hosoya (Japan) – electric bass
Marty Risemberg (USA) – drums
Gábor and Nori met 2010 at a jam session in Berlin and felt that they share the same musical vision, so they started playing together, initially with a drummer from Italy.  After recording a demo album and a few concerts the band split up after the drummer lost the motivation for the project. Gábor and Nori moved back to their hometowns, so the project looked like it came to an end. In 2014 Gábor started to play on cruise ships where he met Marty and the idea of the project was revived. In 2016 all three met in Budapest to record this album. After two days of rehearsal the album was recorded in two days. It took Gábor two years to produce the final mix of the album and Hunnia records showed interest and released it in 2019.
The album starts with "Birdseye", a song with a beautiful theme. The first solo goes to Nori and his six-string Adamovic electric bass, which creates the special sound on the album – acoustic piano and electric bass. This song is already one of my favorites on the album because of it's melodic theme.
"Breaking Through" comes next. This song was written some years ago and made it on the first demo CD in 2012. Gábor explains: " It has influences from Charles Mingus and also some more electronic sounds in the latter parts of the song, but during the climax the band really sounds more like a rock band than anything else".
"Turbulence" is another highlight of the album. It was new to the band when they recorded the album. It stands out with its 5/8 meter and with its Sonata-like structure that resembles the music of J.S.Bach. Gábor has some more details: "Bass and drums play strictly in time, but the piano plays with polyrhythmic or even out of time feel".
The album continues with "The Panda March", a soft song with a beautiful melody and a great dynamic ending with an excellent drums solo.
"Trapped Light" is the next song and stays in the same mood as the last song, a very melodic and soft theme, followed by an excellent piano solo with increasing dynamics and a virtuous bass solo.
"Painting with two colors" is in 11/8 meter and has some Hungarian folk influences. The band plays and varies with this unusual meter and Gábor and Marty shine in their solos.
The ballad "Cradle Me" comes next. This song was originally written for a singer and Gábor played it with his synth-pop band "Silence Factory".
"Play" starts with Nori on bass playing an intro in almost guitar style. This song has a pretty funky-swingy beat and was inspired by Robert Glasper. Gábor told me that other influences of his work are "Esbjörn Svensson trio, Kaltenecker trio and Brad Mehldau, ECM music in general, but with the addition of Marty to the group we started to have an edgy sound especially in the live concerts". This song is another highlight on the album and also made it on my playlist.
"Koletzki" continues with the straight funky-beat and feeling. This song was inspired by the electronic dance music of Berlin. Again a very dynamic piano solo, bass and drums hold the groove and Gábor enjoys his freedom. An open interlude leads over to the funky theme and a stunning finale of the song.
"If Ever" the last song on the album feels like the encore of a concert after the finale of "Koletzki". The band shows one more time its mastership with a very rhythmic theme, the pianist enjoys his freedom over a straight drums and bass layer and another excellent drums solo ending the song and the album.
As I said before, I like the combination of the electric bass with the acoustic piano, I also like the classical and very European approach of Gábor's piano playing together with the straight bass and drums by Nori and Marty.
The band was on tour in Japan in April 2019 and Gábor has some more details: "The tour in 2019 went really well, the band has played in Shizuoka, Nagoya, Kyoto and Tokyo. The first and last show were sold out, and people were really enthusiastic about the music. In Shizuoka there was already a line of people buying CDs during the break. That was an experience I've never had before. Japan is a country where people still buy CDs and want them signed. We had to sign quite a lot of CDs.  After finishing the tour we have recorded four new songs in Tokyo, and there are big plans for a release tour in Europe in the fall of 2019, with additional recording sessions, so that the new CD would arrive early 2020″.
So let's watch out if there is a chance that this band comes to Switzerland, would be great to see them live.
Tour dates are found on Gábor Csordás' website: https://gaborcsordas.com/
Gábor produced a video during the Japan tour 2019:

Here is a playlist on Spotify to listen to the whole album: