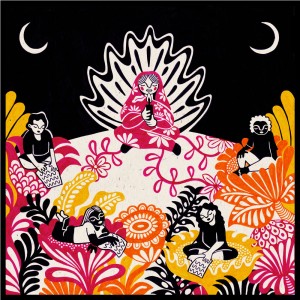 A very interesting and ambitious album from British-Bahraini trumpet player and composer Yazz Ahmed has been released last month. 'Polyhymnia' is Yazz Ahmed's third album and it presents six compositions which are all dedicated to to noted women in history – Rosa Parks, Malala Yousafzai, Ruby Bridges, Haifa Al-Mansour, The Suffragettes and Barbara Thompson. Yazz explains: 'In a male dominated world it is important to tell stories from a woman's view, to be inclusive, otherwise we're missing out on other people's views'.
Yazz is usually on tour with her quartet but for the album she gathered 25 of UK's finest jazz musicians to play her compositions. Recorded in August and November 2016 with additional recordings, overdubbing and editing between 2017 and 2019 this album has already a long genesis. Nonetheless, the album is available now and it comes with a deluxe Vinyl package designed by Sophie Bass, featuring a 12 page booklet of Sophie's art and stories from Yazz behind the music.
The album starts with 'Lahan al-Mansour', a composition dedicated to Haifaa al-Mansour, Saudi Arabia's first female film director. This song uses Arabic scales and rhythms as foundation, material that is also used by the soloists where especially Tori Freestone on soprano sax and Yazz Ahmend on trumpet (with special electronic effects) stand out.
The second song is dedicated to Ruby Bridges. the civil right activist. This song starts with New Orleans style inspired drums and piano, the melody is played by Yazz on flugelhorn followed by an excellent horn arrangement of the melody. Tori Freestone and Yazz Ahmend are responsible for the first two solos, Yazz again alienating her typical longer notes with electronic effects, which comes also as a nice contrast to the other soloists, that follow: Alcyona Mick on piano and Sophie Alloway on drums.
'One Girl Among Many' is the next composition which is dedicated to Malala Yousafzai. Yazz used the natural rhythm and the musical quality of Malala's 2013 speech at the UN Youth Assembly for this song. Parts of her speech alternate with a steady moving melody dominated by the piano. This is the most unusual composition on this album and the clear words from the speech plus the steady moving groove create an impressive statement that leaves no doubt that you can't stop the wish for female education and self-determination.
'2857′ is dedicated to Rosa Parks, another civil rights activist where the number 2857 refers to the bus number on which she made her protest for which she was arrested and convicted but made her an icon of the civil rights movement. The number combination has been used by Yazz for the melody and the metrics of this song. The song has two parts, the first part is quiet representing the dignity of her action, the second part is a wild free improvisation showing the storm of change that came. This storm starts with a mad piano riff and is one of my highlights on the album.
'Deeds Not Words', dedicated to the Suffragettes, comes next. Yazz explains: 'Most of the material stems from the Suffragettes' protest song 'Shoulder to Shoulder'. The song starts with a sophisticated  drum and percussion duet by Corrina Silvester and Sophie Alloway, the melody is played with long notes, a major characteristic of Yazz's music. The solo of this song is a four-way conversation between trumpet (with Kaoss Pad), baritone sax, guitar and vibraphone, Especially Yazz on trumpet (plus effects) creates a great sound layer in this improvisation. The song ends in an extremely positive mood with a beautifully arranged brass marching melody and a nice guitar and piano fade out.
The last song on the album is dedicated to saxophonist Barbara Thompson. I remember her from the United Jazz & Rock Ensemble where she played with our German Jazz heroes Volker Kriegel, Albert Mangelsdorff and Wolfgang Dauner. Yazz explains: 'Barbara Thompson is an accidental hero. She felt the call to creativity that must be answered, simply refusing to give up'. The song starts with a polyrhythmic structure where each instrument plays it's own riff which blends nicely together and creates tension at the same time. Another highlight on the album. Yazz plays a fantastic flugelhorn solo and the song and the album end in a 'triumphant climax in C major, a celebration of human courage and an ode to Polyhymnia.'
This album comes with a lot of ideas, motifs, layers and changes, it is very inspirational music, played by some extraordinary musicians who put a lot of energy into this project. You can hear these efforts and the mastery and together with the electronically altered sound of Yazz's trumpet and flugelhorn you have a unique and outstanding album in your hands.
I had the chance to see Yazz Ahmed this month with her quartet in Lausanne at the JazzOnze+ festival and she is also a great performing artist. She gave me a short interview and it was great to talk to her, to feel her inspiration and determination towards the message from this album, that a society should listen to the stories and the voices of all of it's members.
Yazz Ahmed is currently on a 'Polyhymnia'-tour in the UK with a 12-piece band to perform the songs from the album.  If you cannot make it this year she will have some more concerts at the beginning of next year and I guess the chances are high that this band and this album will be presented next year on some festivals in continental Europe.
More touring details are found on her website:
https://www.yazzahmed.com/
And finally a playlist of this album on Spotify: