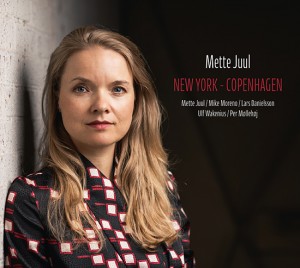 Danish Jazz singer and songwriter Mette Juul released her new EP 'New York – Copenhagen' on March 6, 2020. This release is a follow-up on her album 'Change' from September 2019, which received and still receives many good reviews internationally and revealed new sides of herself through intimate solo, duo and trio sessions.
'New York – Copenhagen' continues with this setup and presents five songs where she is either accompanied by double bass and guitar or guitar only.
The EP was recorded partly in Juul's own home in Copenhagen and partly in New York and Sweden and the musicians are also either from New York or Scandinavia. The three duets on this recording are all with Mike Moreno from New York and the two trios are with Lars Danielsson (DK/SE) on bass and Per Møllehøj (DK) or Ulf Wakenius (SE) on guitar.
Mette Juul tried to capture the difference between the vibrant energy of New York and the Nordic simplicity and warmth. So let's listen carefully to these five songs.
The album starts with 'Some Other Time' by Leonard Bernstein, a duet between Mette Juul and Mike Moreno, who is responsible for the songs for the category 'New York'.  This duet is very open in time and transparent in sound. Both musicians have a lot of space and they never get in each other's way. Mike Moreno's guitar playing is full of creative ideas and Mette's voice is clear and precise with just a little vibrato.
'Skylark' comes next, again with Mike Moreno on guitar. This song has more drive and impresses with a solo by Mette and Mike in unison and the perfect intonation by Mette Juul over the clustered chords by Mike Moreno.
'For Jan' is the next song and we change to Copenhagen with Ulf Wakenius on guitar and Lars Danielsson on double bass. The different spirit of this song comes from the 3/4 time and the dialog between bass and vocals with the guitar adding some soft chord arpeggios.
The album continues with another trio, this time with Per Møllehøj on guitar and again Lars Danielsson on bass.  The song they play is a rather sad version of 'You Must Believe in Spring'. This sadness comes mainly from Mette Juul's interpretation. The unspectacular but straight playing of guitar and bass supports this mood perfectly. Really my highlight on the album.
The last song on this EP is called 'The Peacocks (A Timeless Place) Part 2′ a song which is also found on the album 'Change'. Mette gets perfect support from Mike Moreno for the difficult melody with whacky intervals. A little fade-out closes the album and leaves us with doubts and hope at the same time, this ambiguity is the major characteristic of this album, not only for the Copenhagen part but also for the songs that refer to New York.
Not the easy listening but the deep musical sense and the perfect balance between voice and guitar makes this album outstanding and unique.
More information about Mette Juul including concert dates (I see that she will play with pianist Søren Bebe) and some interesting videos can be found on her website:
http://www.mette-juul.com/
And here is the complete album on Spotify: