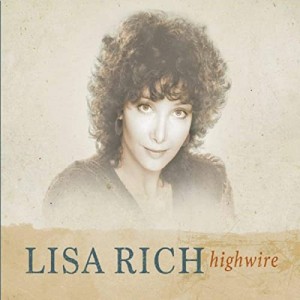 Almost a year ago in June 2019 vocalist, recording artist and educator Lisa Rich has released her third album "Highwire". Similar to the last album I presented, this recording was slumbering for 32 years before it was released. The reason behind this long period were health problems, which made it impossible for Lisa Rich to perform and so she became a full time vocal teacher.
In recent times, thanks to regular exercise and working with a physical therapist, Lisa Rich's health has improved quite a bit. The desire to sing returned. She explains: "At first I didn't think that my voice would come back but it is returning. Of course I'm older now but I think that I have something strong to offer. I'm putting out the 'Highwire' record because the music is too good not to be released. Now it's my goal to put myself out there."
The album was recorded with a top-notch rhythm section, she sings five Chick Corea songs (Lisa Rich met Chick Corea in the 1980s and received some original songs, most of which had never been recorded vocally) plus originals by Ralph Towner, Duke Ellington, Ornette Coleman and Loonis McGlohon along with the standard, "We'll Be Together Again."
The complete line-up is:
Lisa Rich – vocals
Marc Copland – piano
Drew Gress – acoustic bass
Michael Smith – drums
David Kane – piano (track 3 & 6)
The album starts with Chick Corea's "Highwire The Aerialist". Lisa Rich presents the complex melody very relaxed supported by a superb rhythm section with a extremely pushing Drew Gress on bass.
"Contessa" another composition by Chick Corea comes next. This jazz waltz was never recorded by Chick Corea. The complex harmonic structure and the melody with big jumps and difficult intervals is mastered perfectly. We also hear an outstanding piano solo by Marc Copland.
"Celeste/Prelude To a Kiss" is the next tune. "Celeste" is by Ralph Towner and I presented a version from Florian Ross some weeks ago, so here it comes again as the opener for this medley where the melody just navigates seamlessly to the Duke Ellington standard "Prelude To a Kiss". This tune is a beautiful duet between David Kane on piano and Lisa Rich on vocals.
The album continues with "Bud Powell" by Chick Corea. The version we here is possibly the only vocal version of this happy melody. A nice straight jazz tune in Bebop style. Again mastered perfectly and a real pleasure to listen. One of my favorites on the album.  Another superb piano solo by Marc Copland tops this tune off.
The next song is "Stardancer", the second jazz waltz by Chick Corea. This much more pushing jazz waltz received its recording debut here.
"Lonely Woman" by Ornette Coleman is an atmospheric ballad which shows a complete different Lisa Rich holding very long notes without any vibrato, extremely clear and precise.  The second duet on this album with David Kane on piano and another highlight for me.
The band returns with another lovely ballad called "Songbird" by Loonis McGlohon. Sung and played impeccably.
The albums picks up speed with "The Jinn" by Chick Corea. Quite fancy and presented very entertainingly.
The standard "We'll Be Together Again" by Carl T. Fischer and Frankie Laine comes next. Lisa Rich focuses in this ballad on a perfect articulation of each word. Again, the most impressive element of her voice is to hold long notes perfectly without any vibrato.
The album finishes with "The Silence of a Candle" by Ralph Towner. Another ballad openly played in duet with piano. A great melody sung very sensitively.
This album presents music of timeless beauty and style. Lisa Rich is an incredible singer with a stunning voice. I like the versatility of her singing from Bebop to ballads from straight to open and from funny to soulful. A selection of songs that have great melodies but are not so well known, a fantastic band and the two outstanding piano player make this album a real gem. Please listen to it.
If you would like to get some more information on Lisa Rich, please look at her website:
https://www.lisarich.com/
And finally the complete album on Spotify: