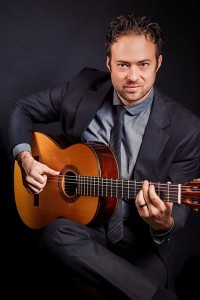 Today I would like to present another guitar player from New York City, his name is Q Morrow, and he grew up in Idaho before studying classical and jazz guitar in California and Texas. He also spent a year studying Carnatic music in Bangalore and has settled now in Brooklyn, NY where he is an active part of the music scene.
He plays (as you can see) a classical guitar with nylon strings and that characterizes his music and the sound on his new release "There Are Stars in Brooklyn".
The album features:
Q Morrow – Guitar
Will Vinson – Alto Sax
Evan Francis – Flute, Alto Sax
Sam Bevan – Bass
Raj Jayaweera – Drums
The line-up is special with two alto saxes and a flute, but my experience is that flute and alto sax fit perfectly together with a guitar, because the guitar frequencies are quite low and so there is not much of an overlap with the wind instruments.
The album starts with the title song "There Are Stars in Brooklyn". Q plays a beautiful solo intro, the head is then played by Flute and Sax , the band grooves nicely. The melody and guitar solo is inspired by classical guitar music while Evan Francis on flute and Will Vinson on Alto Sax play their solo with much more modern jazz inspiration.
The beginning of the second song "The Do How" reminds me of Sylvain Luc (another master of the nylon guitar from France which I used to listen a lot to) but the song becomes rhythmically much more complex. Q explains: "One thing in the album that warrants explanation is the metric modulations on track 2. What I'm experimenting with there is the temporal reflections (interpreted with metric modulations) of the chord changes' relationship to the tonic of the key. In other words the length of each chord change correlates to the length of the wavelength of the root note of the chord as it relates to the tonic (F# in this case). So a D chord will last for 5 beats, a C# for 4 1/3 beats, a B for 3 (or 6). And it gets more complicated from there. All of the changes fit within the framework of 5/4 time, based on the idea of Mora in Carnatic music where complex, over-the-barline rhythmic phrases fit into a larger beat cycle framework. The bass maintains a 5/4 ostinato figure throughout to illustrate the original tempo. The B section of the title track is also based on the Karnatic mora, but in 7/8 time. So those tracks are my attempt to unify harmony and rhythm in the spirit of experimentation, something I've been working on for a few years now and will continue to do in the next couple of years".
A very interesting concept behind this song. The composition is done in a way that it returns back to 7/8 time intro which gives the listener a fixed point.
The next tune is called "Pupusa da Jamaica" and is based on the Cuban folkloric rhythm Guaguanco. Even if the tune is in straight 4/4 time the band enjoys a lot of rhythmic freedom here as well.
"Sueño de Miel" (which means Dreaming of Honey) is named after a dream Q Morrow had when he was gathering honey in the South American jungle with an indigenous tribe. It shows Q's mastery of the classical guitar. The tune is written down like a classical composition ( Q was so kind to share the sheet music with me) and is inspired by Venezuelan Joropo dance music.
"Chinook Passing" comes next and this song is clearly inspired by Spanish flamenco and tango, sounds very European and reminds me again of Sylvain Luc and his style of Basque folklore and Jazz music.
"Inferno Astral" is another tune for classical solo guitar. The constant 32nd notes are meant to evoke pouring rain. There is a live version of this available on Youtube, so if you want to see the exact fingering of this tune, here is your chance:

The album continues with "Not Quite Sure Yet", another experiment in rhythm/wavelength relationships as described above. Also an homage to Q Morrow's early roots in the Northwestern US (Idaho) which he describes as grunge rock. A very interesting song with multiple changes in rhythm and feeling. Great solos by guitar and saxophone and my favorite song on the album.
The last tune is "Loose Ends" which Q Morrow describes as a Blues with a vamp section, rhythmically straight but with multiple harmonic centers. A straight modern jazz tune played very well.
The album is a eclectic compilation of Q Morrow's compositions. It shows his versatility as composer, arranger and musician and includes all different aspects and influences that he was exposed to and which found their way into his work. He has surrounded himself with excellent musicians who are able to understand and realize his ideas. This release is another perfect example of today's Jazz music that gets inspired by the individual path of each musician.
More information about Q Morrow is available on his website:
http://www.qmorrow.net/
The complete album is not available on Spotify but the two songs "There Are Stars in Brooklyn" and "The Do How" have been released as single songs and are included in my 2019 playlist.