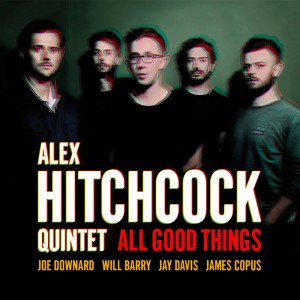 Today's album comes from London-born saxophonist and composer Alex Hitchcock who is one of the rising stars of the UK jazz scene. He leads his own quintet, the Alex Hitchcock Quintet that gained a lot of recognition in 2018 after releasing the live EP "Live At The London And Cambridge Jazz Festivals". The quintet won the first price in the Conad Jazz Contest at the 2018 Umbria Jazz Festival and toured quite intensively in 2018. The momentum and spirit from this period led to the album "All Good Things" which was released on May 31 by the Spanish contemporary jazz label "Fresh Sound New Talent".
The line-up of the quintet is:
Alex Hitchcock – tenor saxophone
James Copus – trumpet/flugelhorn
Will Barry – piano/keyboards
Joe Downard – bass
Jay Davis – drums
All songs on the album have been written by Alex Hitchcock. All pieces have been thoroughly "road tested" at festivals and gigs throughout Europe in 2018 and the musicians had a chance to get inside each composition and to improvise freely within them.
The first song on the album is called "Hamburg 2010″ and starts with a rather simple melody with long notes from which the saxophone solo develops over a complex bass and drums groove. Will Barry on piano takes over with a second solo that forces bass and drums to much more dynamics. After an intensive interlude dynamics go back and James Copus plays a beautiful trumpet solo initially accompanied only by piano.
"Mobius" the second song begins with a pushing bass intro over which sax and trumpet play a polyrhythmic melody. The solo-part is a dialog between trumpet and saxophone. Hitchcock comments that: "James is a really inspiring musician to play alongside – one of his explosive solos can lift an entire gig to another level – and I wanted to write a cyclical form that we could trade on and overlap seamlessly while playing on alternate sections". The song ends with a fantastic drums solo.
"Mint" brings new sound elements. Will Barry is on keyboard and the drums are played rather minimalistic, the horns have a melody mostly in unison with long notes. This song features Alex Hitchcock in laid-back style.
"Adjective Animal" has a simple and beautiful piano intro. One characteristic element of the compositions of Alex Hitchcock are melodies played by the horns in unison with long notes. This song is no exception, but the surprise comes at 2:15 minutes. Groove and sound change and the horns play a much more complex melody. This song features drummer Jay Davis.  Alex Hitchcock has some details: "Jay always finds new ways to approach the same material over the course of a run of performances, making sure the texture and feel of the music is always fresh and original". The song has also a fantastic keyboard solo and more groove changes towards the end with some interesting drum fills.
"A38″ features Joe Downard on bass, he gets the first solo and we can clearly hear him singing and playing his improvised melody, very nice. The second solo goes to James Copus on flugelhorn. I like his playing very much and this solo is definitely one of my highlights on the album.
"Sorry Not Sorry" comes next and starts with a steady bass and drums groove over which the horns play a twisting melody. Will Barry adds some funky keyboard sounds. James Copus has another chance to pull out all the stops and Will Barry is able to convince us with his keyboard solo.
"Context", the last song on the album begins with a beautiful piano intro, the melody however is in big contrast to the perfect harmony of the piano. Alex explains: "I wanted the dissonance of the melody to pull the listener's ear in different directions across a repeated bass line". The song features Will Barry on piano, he plays an excellent solo on this tune.
An interesting album with excellent musicians, especially James Copus and Will Barry are really impressive. All songs are performed very well and you feel that the musicians have been playing that material for quite some time. The band has a distinct sound and the compositions follow an individual path.
The quintet has received great feedback for its live performances. Please check for yourself with the attached video.

The Alex Hitchcock Quintet is currently on tour in the UK. You can find tour dates on Alex Hitchcock's website: https://www.alexhitchcock.co.uk/
And again a playlist on Spotify: