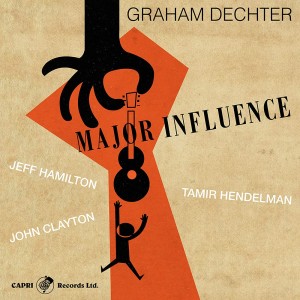 A fantastic new album called 'Major Influence' has been released by Graham Dechter in September.  The guitarist wrote and arranged all but one of the tunes. "After completing seven originals and co-arranging the classic 'Pure Imagination' with Mr. Hamilton, I came to the realization that every song on this recording, whether consciously or subconsciously, was dedicated to and/or directly influenced by one or more of my musical heroes."
He reunites with the dream team rhythm section of his first two albums: Tamir Hendelman on piano, John Clayton on bass and Jeff Hamilton on drums.
The album starts with 'Orange Coals', a bluesy composition which swings hard and features Graham Dechter and Tamir Hendelmann with excellent solos. What a start.
'Reference' is the next song, much softer but still moving with Jeff Hamilton using his brushes, the head is a nice dialog between guitar and piano on one side and bass on the other side, producing this killer sound when guitar and piano play in unison.
The album continues with the title song. 'Major Influence' is a melodic song with a beautiful melody and great melodic guitar and piano solos.
'Moonithology' comes next. This song swings nicely, again with excellent brush work by Jeff Hamilton on drums. This song gives John Clayton the chance to shine with a nice bass solo.
The album continues with 'Minor Influence', another hard swinging (minor) blues. This song is like the trademark of Graham Dechter, very straight and very bluesy. And, no surprise, we hear in my opinion the best guitar solo on the album. Outstanding.
In strong contrast comes the balladesque version of 'Pure Imagination'. Jeff Hamilton is featured with a fantastic brush drums solo.
'Bent on Monk' is obviously inspired by Thelonious Monk and comes with a funky and chromatic melody. An entertaining tune in jam style with solos from all musicians.
The album ends with 'Billy's Dilemma' a fast and artistic song giving this excellent musician and his band a final chance to impress us with their fast and precise playing.
Graham Dechter has deep roots in the tradition of guitar playing and his new album shows this in an outstanding way. All songs are played with great melodic ideas, swing hard and have this connection to the blues.
And here is the complete album on Spotify: