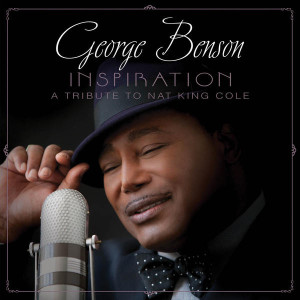 Another album from the Concord Records from 2013 is George Benson's tribute to Nat King Cole: Inspiration.
I might have explained before that I also think that the music of Nat King Cole is something I'm also enjoying to listen, but with that CD George Benson makes it clear that he was and still is one of the greatest admirers of Nat King Cole and his muisc.
The album starts with a recording from 1951 with Little George Benson singing and playing the Ukulele to "Mona Lisa", his personal choice at that time and still today, also closing the record with the original arrangement from Nelson Riddle.
In between we hear many of those great songs Nat King Cole became famous also in it's original arrangements and George Benson as the really inspired vocalist. Benson's voice is very similar to Nat King Cole's way of singing, especially on "Walking My Baby Back Home".
"Just One Of Those Things" featuring Benson also on the guitar with a classic-Benson solo singing the guitar solo line.
"Unforgettable" with Wynton Marsalis on trumpet and Benson on guitar playing this song groovy and relaxed with no extra pathos.
"Route 66″ shows again the excellently swinging Henry Mancini Institute Orchestra, under the direction of arranger Randy Waldman.
My personal highlight on this CD is "Nature Boy". The arrangement is again from Nelson Riddle and Benson plays the solo part on guitar. This song has not covered any dust in all those years since it was released by Nat King Cole in 1948, just amazing. And I think this is also Benson's message with this album: Here is some music I grew up with and the music from my youth has inspired me my whole life and now I allow myself to play and sing these original arrangements and hopefully inspire another generation of musicians.
"Smile" features Till Brönner on trumpet, "Too Young" features Judith Hill (you can hear here tonight at the Oscars) on vocals in a nice vocal duet and "I'm Gonna Sit Right Down and Write Myself a Letter" is again a swinging big band arrangement giving Benson again the opportunity to play an excellent guitar solo.
So this tribute to Nat King Cole shows this music in it's original form perfectly played by today's masters. Benson himself is very proud of this album because it presents one the greatest guitar players of our time as what he always wanted to be: a great singer.