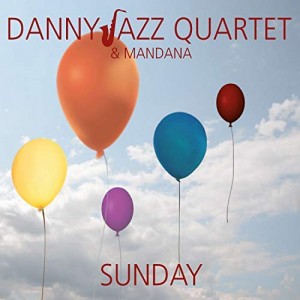 I am also very busy making music and today I have the pleasure to present a new album I recorded with my fellow musicians from the DannyJazz Quartet.
Four years ago we released our first album as a trio and since 2017 we play with a drummer as a quartet plus a singer. The result of this reorientation is an album with 13 originals, all written by our saxophonist and bandleader Daniel Gaggioli. All the lyrics have been written by Mandana, our singer.
The album is called "Sunday" and refers to a line in the song "Only Time For Us":
Sunday morning in bed, nothing to get up for
Blue sky and sun, only time for us
The start of this album goes back to February 2017 when we played very successfully a new program of originals from Daniel Gaggioli. This was also the first performance with our drummer Nicolas Baechler. Some weeks later we had Mandana showing up in our rehearsal room (which is, as quite common in Switzerland, a bunker built for a nuclear war with extra massive doors where no noise goes through and you can rehearse during the night without bothering anyone). She liked the songs and promised to write lyrics to Daniel's melodies and four months later we went on stage as a quintet. These concerts with Mandana have all been very successful and people loved the songs and Mandana's singing and that's where we started to think to make an album.
In January and February of this year we went into the recording studio. We booked again the Splendorstudio in Bern. Big thanks to Sandro Hässler and Martin Kissling for their support during the recording sessions.
Martin made a a nice little from these sessions and posted it on Facebook: https://www.facebook.com/splendorstudio/videos/1820355394661785/
It took a little bit to finish the mixing and mastering but finally today, September 1st, 2018, the album is available on Spotify, iTunes and Amazon.
In the next few weeks we will play this music live in the western part of Switzerland. We have several concerts between September 14 and October 6.
Here are the details:
September 14: Restaurant Entre Terre & Mer in 1673 Rue
September 20: KRAN in 3186 Düdingen
September 22: 20h de musique in 1680 Romont
September 28: Dorfhus Bistro in 3700 Spiez
October 6: Hotel Belle Epoque in 3011 Bern
I hope to see some of you there.
Here comes a playlist on Spotify for those who want to listen to the album right away: