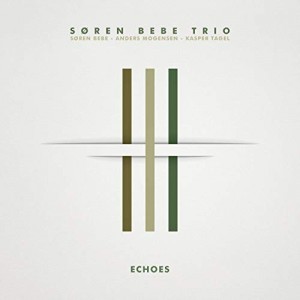 Danish jazz pianist and composer Søren Bebe and his trio have released their excellent sixth studio album 'Echoes' in May 2019.
Søren is a busy member of the Danish jazz scene but also his fellow musicians – Kasper Tagel on double bass and Anders Mogensen on drums – are well known and very active musicians.
The trio exists in this form since 2007 and has been able to play concerts around the world, which means, we have some experienced musicians that have been able to develop their own sound over the years. A sound that has been continuously checked and refined through live performances. The result of this process is an excellent album, perfectly balanced and pleasantly soft and melodic. The inspiration of this album comes obviously from jazz music but also  from classical and folk music.
Søren explains: "I've always been interested in classical music and fascinated by the classical players and also had my 3-4 years of intense classical training in my 20's to the point where I almost decided to go all in and l leave the jazz playing behind. That stopped when I heard my teacher's 14 year old protege in concert and realized how far behind I was. But I still practice and play the masters on a daily basis and have been working on some pieces for the trio. Sospiri Op.70 by Edward Elgar made it to the album and 'Pavane for a Dead Princess' by Ravel is just out as a single but from the same session. I also love folk music and I made a whole album with Danish folksong together with singer Ditte Rønn some years ago. We did an arrangement of a fairly unknown Danish folksong 'Kærlighedstræet' (the 'tree of love') and it has stuck with me ever since so I wanted to do a trio version also".
Another traditional song that made it onto the album is the well known Danish psalm 'Jeg er træt og går til ro' (which means 'I'm tired and off to bed'). This song is used as a goodnight song for kids but also for funerals as it talks about having a rest while Jesus watches over you. A video of the recording is available and I have added it here for you:
The album starts with the title song 'Echoes' which is my favorite tune on the album, soft and slow with an incredible feeling of space and time.
'Waltz for Steve' is a homage to Steve Swallow. The first solo goes here to Kasper Tagel on double bass followed by a great piano solo. After the soft beginning we hear the jazzy side of this trio.
The next song 'Winx' returns to the melancholic mood from the beginning, a soft piano dominated ballad with an excellent bass solo.
'Homeward' is a composition from Kasper Tagel. There is also a nice video available for this song:
The album continues with the two traditional songs 'Kærlighedstræet' and 'Jeg er træt og går til ro'. Both songs are in the same mood as the initial song and contribute to the soft and melancholic vibe of this album.
'Alba' comes next. The song is dedicated to the city of Alba, Italy and its lovely people where Søren and his trio have been able to play a couple of times and where they have made good friends.
'Alone' is based on a bass riff played by the piano and even if it is a jazz tune it reminds me a little bit of J.S. Bach.
The next tune 'New Beginning' stands out. Søren has some more details: "Finally we did some free improvisation in the studio which resulted in two songs, one of them being on the album and entitled 'New Beginning'. The title is a reference to a song from Charlie Haden's album 'The Montréal Tapes' which is one of my personal top 10 albums".
The album finishes with 'Sospiri Op.70′ by Edward Elgar, a romantic composition that fits perfectly into the style of this trio.
This album comes in a very soft and melancholic mood. The music of this trio is extremely calm and melodic and it spans the bridge from the classical music of the 19th century into our era. The inspiration from classical and folk music gives the trio and this album it's unique sound and atmosphere.
More information about Søren and his projects is available on his website: https://www.sorenbebe.dk/
And finally a playlist on Spotify to listen to the whole album: