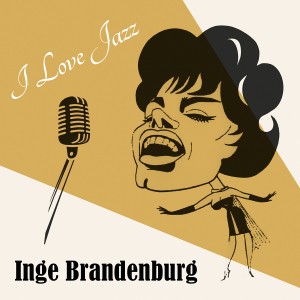 Inge Brandenburg was "the German jazz singer" of the 1960s.  Despite of her incredible talent she was not able to succeed commercially as a Jazz musician. This year would be her 90th birthday but it is also the 20th anniversary of her death.
German film-maker and producer Marc Boettcher released a portrait of Inge Brandenburg in 2011 called "Sing! Inge, Sing!". The Berlin based label unisono-records edited and remixed 18 unpublished songs out of the material for this film and released them with this album "I Love Jazz" for this anniversary.
Born 1929 in Leipzig, and grown up in difficult circumstances in Nazi-Germany, Inge Brandenburg was used to stand on her own feet. During the German economic miracle, she was suddenly celebrated as the best European jazz singer, compared by Time magazine with Billie Holiday. But the German audience ignored the talent of the outstanding jazz singer and the record industry tried to reduce her (unsuccessfully) to "Schlager"-music. The story of her life became a sad story: after being ignored by record labels she became an alcoholic, she lived from social welfare and she died alone and almost forgotten in 1999 in Munich. The film and now this album are a great reminiscence of Inge Brandenburg and the Jazz orchestras of the radio stations in the 1960s in Germany.
The 18 songs of the album are a colorful mix of Jazz standards, musical and pop songs,  sung in German or English, recorded live or in the studio with combos and jazz orchestras and contain illustrious names of the German jazz scene like Paul Kuhn & SFB Big Band, The Klaus Doldinger Quartet, WDR jazz orchestra with Dusko Gojkovich and Erwin Lehn & the SDR big band.
The songs have been carefully revised and remastered by Patrick Römer from unisono-records and they show not only the amazing voice of Inge Brandenburg but also the vitality of the scene in the 1960s in Germany with all those great jazz orchestras and their incredible arrangers.
The album starts with "A Taste of Honey", recorded in 1970 with Erwin Lehn & SDR big band, straight and easy played and sung.
We hear the same band in the next song "Like A Straw", a composition by Wolfgang Dauner and lyrics by Inge Brandenburg. A quite challenging melody with big interval jumps that are mastered perfectly.
"Cry Me A River" comes next, again with Erwin Lehn and his orchestra, recorded in 1963. The remarkable arrangement was done by Joki Freund and Inge shows that she is able to interpret this well known song in her own and unique way.
The next song "Zeig Mir Was Liebe Ist (Show Me What Love Is)" is a composition by trombonist Peter Herbolzheimer with lyrics from Inge Brandenburg. This is a pop song from the 1970s, very entertaining with a mad trumpet solo. The lyrics are in typical "Schlager" style, but I like this song a lot, nice harmonies and a great band.
"Summertime" comes next. This song was recorded in 1963 with the Klaus Doldinger Quartet. After a free first verse the band plays the song just easy swinging in an unusual 3/4 meter.
"Was Weisst Du von Liebe (You Don't Know What Love Is)", one of my favorite ballads, was recorded in 1964 again with Erwin Lehn and his orchestra and impresses with the sound of that era, sweet saxophones and dampened trumpets.
"Moritat von Mackie Messer (Mack The Knife)" is the next song.  The Berlin-based RIAS orchestra plays this classic nice and easy swinging and I enjoy to hear a version with the original German lyrics by Bertolt Brecht.
"Stella by Starlight" from 1959 with the WDR big band (with Dusko Gojkovich on trumpet) is definitely my highlight on the album. Inge Brandenburg always wanted to sing jazz and this song is for me the proof that she really understood this music as good as the great jazz singers from the US and it's really a shame that she never could make a career with her talent.
"What's the Matter Daddy" live recorded in 1964 with the Klaus Doldinger Quartet shows the bluesy side of Inge's singing. Highlight of the song is the last verse where she and Klaus Doldinger on sax have their duet-duel and really push it to a grand finale.
The album continues with the jazz standard "But Not For Me".  A very clean and transparent recording with pianist Klaus Koenig and his trio. The song was live recorded in 1965 in Zurich for the Swiss radio series "Jazz Live".
"Zähle nicht immer die Stunden (Do Not Always Count The Hours)" by Heinrich Riethmüller (he became famous by writing the German lyrics of Disney's The Jungle Book) is the next song. This ballad was recorded in 1961 with the NDR big band and impresses with an outstanding arrangement and Inge's soft but accurate singing.
"Makin' Whoopee" sung in German with an excellent translation of the lyrics by Paul Kuhn and Inge's humorous interpretation keep the spirit of this funny song.
"St. Louis Blues" again with Klaus Koenig and his trio is very jazzy and bluesy and right in line with Inge Brandenburg's favorite kind of music. Great pleasure in this jam-style song.
"Hello Little Boy" is a rock'n'roll tune recorded in 1961.  Inge is singing and growling and she and the band have a lot of fun in this up-tempo song that is full of energy.
The next song is the classic Jazz standard "On The Sunny Side of the Street" with the SFB orchestra. A great arrangement by Jerry van Royen and Inge shows her ability to sing in a low pitch. Patrick Römer from unisono records told me that he found out that his father Rolf Römer (sax) plays with the SFB orchestra on this recording. Nice surprise.
"Round Midnight" with the Michael-Naura-Quartet from 1963 comes next.  Inge's voice alone carries us through the song, not much of background is needed and the band plays very discreet and reserved.
The song "Das Riesenrad (The Ferris Wheel)" brings us back to the recording session from 1970 with the SDR big band which we could hear in "Like A Straw" – another composition by Wolfgang Dauner with lyrics from Inge. A nicely swinging medium fast song with a challenging arpeggio-like melody.
The last tune on the album is the title song "I Love Jazz". This dixie-style tune was recorded in 1961 with the NDR big band, that plays here more like a marching band then as a swing orchestra. A funny closing song for this album and another perfect example of the versatility of Inge Brandenburg singing.
The 18 songs on this album are a great reminiscence of Inge Brandenburg and an entertaining and impressive compilation of an almost forgotten incredible Jazz singer from Germany. The bands and the arrangers are the best you could find at this period and so this album is also a great retrospective of German big band music.
Also, special thanks to Marc Boettcher and Patrick Römer for collecting, analyzing and selecting the material and for polishing it in a way that the spirit of this era and the sound expectation of today blend well with each other.
This album is a perfect combination of vocal jazz and big band music and if you enjoy this you will not be disappointed.  For all non German-speaking readers it is a great opportunity to discover that it is possible to swing and groove in German.
This is the English press info PDF file with all the details about the album: I Love Jazz – Press Info
Here is the (German) trailer of the movie "Sing! Inge, Sing!":
I added the press info PDF for the movie (in English) which contains a great biography: Movie – Press Info
And finally a playlist on Spotify: