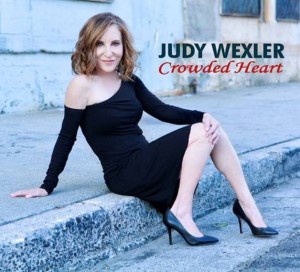 Vocalist Judy Wexler has released her fifth album "Crowded Heart" on May 31st and it hit #1 in Jazz on iTunes and Amazon in its first week. The press release said that the album is featuring outstanding songs by current-day jazz composers. So I had an interesting baseline when I started to listen to the album. The first impression of the album was extremely positive, Judy has a clear and precise voice and is able to transmit complex lyrics in an easy and natural way to the listener. The arrangement on the album are all excellent, played by great musicians and here and there are nice surprises for the listener.
All songs have been chosen by Judy Wexler and she took her time to find the combination of great melodies and lyrics with a compelling story. The Great American Songbook has a lot of songs with beautiful melodies but sometimes the lyrics are a little bit silly and more like a vehicle for the melody than a story to tell. Judy's approach is definitely different and more challenging but I can imagine also more rewarding. In addition she looked for timeless modern jazz compositions written by contemporary songwriters.
The album was produced by Alan Pasqua and Judy Wexler, all arrangements are from Alan Pasqua, who plays the piano on all songs.
The other musicians on the album are:
Larry Koonse – guitar
Josh Johnson – alto sax
Bob Sheppard – alto flute
Darek Oles – bass
Steve Hass  – drums
Aaron Serfaty  – percussion
Stefanie Fife  – cello
The album starts with "Circus Life" by Luciana Souza, Larry Klein and David Batteau, a lively samba about the stresses and general insanity of modern life. A nice surprise comes at the end of the tune where Alan Pasqua decided to add a fun whistling improvisation.
The second song "Parisian Heartbreak" is my personal favorite on the album. No surprise since the song was composed by Richard Galliano who used to play with my favorite guitar player Sylvain Luc. I found an instrumental version of this song called "Spleen" with Richard Galliano and Sylvain Luc. Judy's version keeps the melancholic mood of this musette-tune and Alan Pasqua adds an incredible solo on the melodica.
"Crowded Heart" the title song of the album comes next. It was composed by Judy's good friend Sinne Eeg, a Danish vocalist and songwriter with an international following. Eeg's compatriot Mads Mathias wrote the lyrics about the end of an affair with a married man.  This song was one of the first songs she selected for this album. Convincing Steve Hass on drums is responsible for the open but pushing groove.
"Painted on Canvas" was the only tune where I knew the original version. Gregory Porter released it on his 2012 album "Be Good". Gregory Porter's version stays in an open mood and I always was hoping that it picks up the 6/8 meter, which it never does. Judy Wexler's version is much more straight here with a rather heavy funky groove. Josh Johnson on alto sax plays an outstanding solo.
The next song "Stars" was composed by pianist Fred Hersch, whose original instrumental version is called "Endless Stars." The lyrics are from British vocalist and lyricist Norma Winstone. The melody has challenging intervals which are mastered with assurance.
"The Last Goodbye" is a sad song about a lost love with excellent lyrics by British vocalist Georgia Mancio, who has become a valued online friend to Judy Wexler through their exchange about music. Bob Sheppard on alto-flute is responsible for the unique and distinct sound of this song.
The album continues with "Take My Breath Away" by American songwriter and jazz vocalist René Marie, who started her career as Jazz singer with 41 years. A clever piano riff dominates this song and Larry Koonse plays a fine solo on his acoustic guitar.
"I Took Your Hand" by Italian pianist Enrico Pieranunzi is the next song. The original instrumental version was titled "Fellini's Waltz". The version of Judy Wexler comes with a pushing groove and a great alto sax solo. The melody is also quite complex with interval jumps that are all managed with ease.
"It's Only Smoke" by Larry Goldings and lyrics by Cliff Goldmacher is the song where I have the feeling that Judy Wexler enjoys to have complex lyrics that ask for an intellectual mind to interpret them. This song is real brain food and I like it very much.
The album ends with "And We Will Fly" by Alan Pasqua with lyrics by Kurt Elling and Phillip Galdston. It originally appeared as an instrumental called "Highway 14″ on Pasqua's 2005 CD, "My New Old Friend". This love song has a beautiful intro by Larry Koonse and modulates nicely between major and minor in an easy Latin-style.
Judy Wexler still does release concerts for this album and you can check on her website when and where she will perform:
http://judywexler.com/
Judy did some crowd-funding for this album and produced a nice video which I would like to share with you:

Thanks to the information from Judy I was able to compile a nice playlist with the version from the album and the original version of each song. I hope you enjoy this comparison.