Swiss drummer Florian Arbenz has released two very interesting  albums in the last few months.
The first album "Convergence" was released in June and presents a handpicked sextet of contemporary jazz musicians from Cuba, Brazil, Switzerland, Australia and the UK.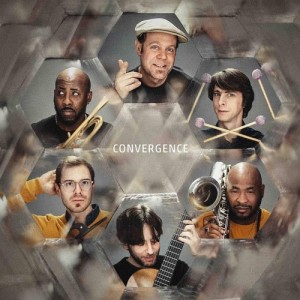 At the heart of this project is Florians collaboration with the Cuban Vistel brothers: trumpeter Jorge and tenor saxophonist Maikel. They are joined by Brazilian guitarist Nelson Veras, English vibraphonist Jim Hart and Australian bassist Rafael Jerjen.
Florian explains:  "Despite the difficult themes and complicated forms that needed to be mastered for this Convergence project, the music has a very playful and almost party-like aspect. You can really hear and feel the fun we had together in the studio."
An excellent album with a lot of positive energy, interesting melodies and motifs, a pushing rhythm section and great improvisations. A fine contemporary jazz album.
Florian produced a nice video of 'Little Idea' which is the first song on the album:

---
The second album "Reflections of the Eternal Line" was released this month and features saxophonist Greg Osby on soprano & alto sax and Florian on a classic jazz drum kit with a huge balinese gong, some tuned kalimbas and other custom-designed percussion instruments which add a sense of bass lines and even harmony.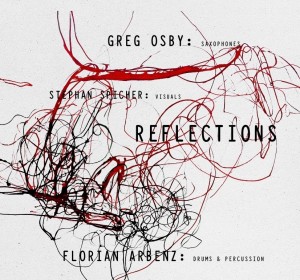 The album was inspired by a series of paintings by Swiss artist Stephan Spicher, whose workshop was the location of the recording sessions.
Florian has some more details: "I met Stephan around 2004 through a common friend and immediately felt drawn to his art. Stephan's main themes in his paintings are lines and nature and he has followed those ideas very consistently for many years now, working on different aspects and diving extremely deep in those subjects. I visited Stephan in his workshop and he showed me a new series he was working on with the theme of the interaction of a red and a black line.
Seeing those paintings it was obviously clear to me that this must be my subject, because what Greg and I do is exactly the same: We search for a communication and interaction of our two lines, leaving the freedom to each other, but also clearly inspiring each other.
So I organized a recording session with Greg in Stephan's workshop and we immediately felt a great vibe."
Florian and Greg work together now for more than 20 years and their collaboration on this album is outstanding and shows the deep relation and understanding these two musicians have.
A beautiful video is available to see what happened during the recording of the song "Wooden Lines" :

And I have two playlists from Spotify for you for each album. Please enjoy: